Organ meat might not be for everyone, but this recipe list will give you a wide variety of options to make your chicken hearts the best they can be.
Choose between these 25 Best Chicken Hearts Recipes and find the best dish for you. Whether you love deep-fried, saucy, or grilled, there is something here for you.
1.
This quick air-fryer recipe will make your chicken hearts the perfect appetizer or main dish in no time. Filled with soy sauce and lemon juice, you can ensure a flavorful crunch with every bite.
The preparation is short, you mix the ingredients and pop them in the air-fryer, and you're done. It's a perfect chicken heart dish for beginners.
2.
Peppery with a kick—this chicken hearts recipe is coming in hot. Filled with spicy flavors, this recipe is teeming with Caribbean inspiration.
You can ensure a bomb of savory taste within every bite of this dish. It's a perfect combination for some rice or bread for a more balanced meal.
3.
Quick and easy, this chicken hearts with mushrooms recipe is a perfect last-minute meal. With less than 10 minutes of prep and cooking time, this weekday chicken hearts recipe is for you.
Made with five ingredients, you can easily find the ingredients for this dish. It's perfect to be served with a side of roast potatoes or vegetables.
4.
You can taste the authentic Japanese influences with this Japanese-style chicken hearts recipe.
With soy sauce, white wine, and zesty lemon, you can taste the flavors of Asian cuisine with every bite. It's a straightforward recipe to follow and results in deeply caramelized meat and a mix of salty, sour, and zesty sauce.
5.
The pan-fried dish is an excellent option for a weeknight dinner; this chicken hearts recipe is no exception.
With a quick cooking time and easy steps, you can whip up this dish in no time. The spices and ingredients of this recipe are very easy to change and make it cater to your more refined taste.
6.
Who doesn't like a touch of curry in their food? It's peppery and tangy, with a hint of spiciness that many loves.
Indian cuisine inspires this chicken recipe. It's a perfect way to try some new flavors or the delicious spices you are familiar with—this time with delightful chicken hearts!
7.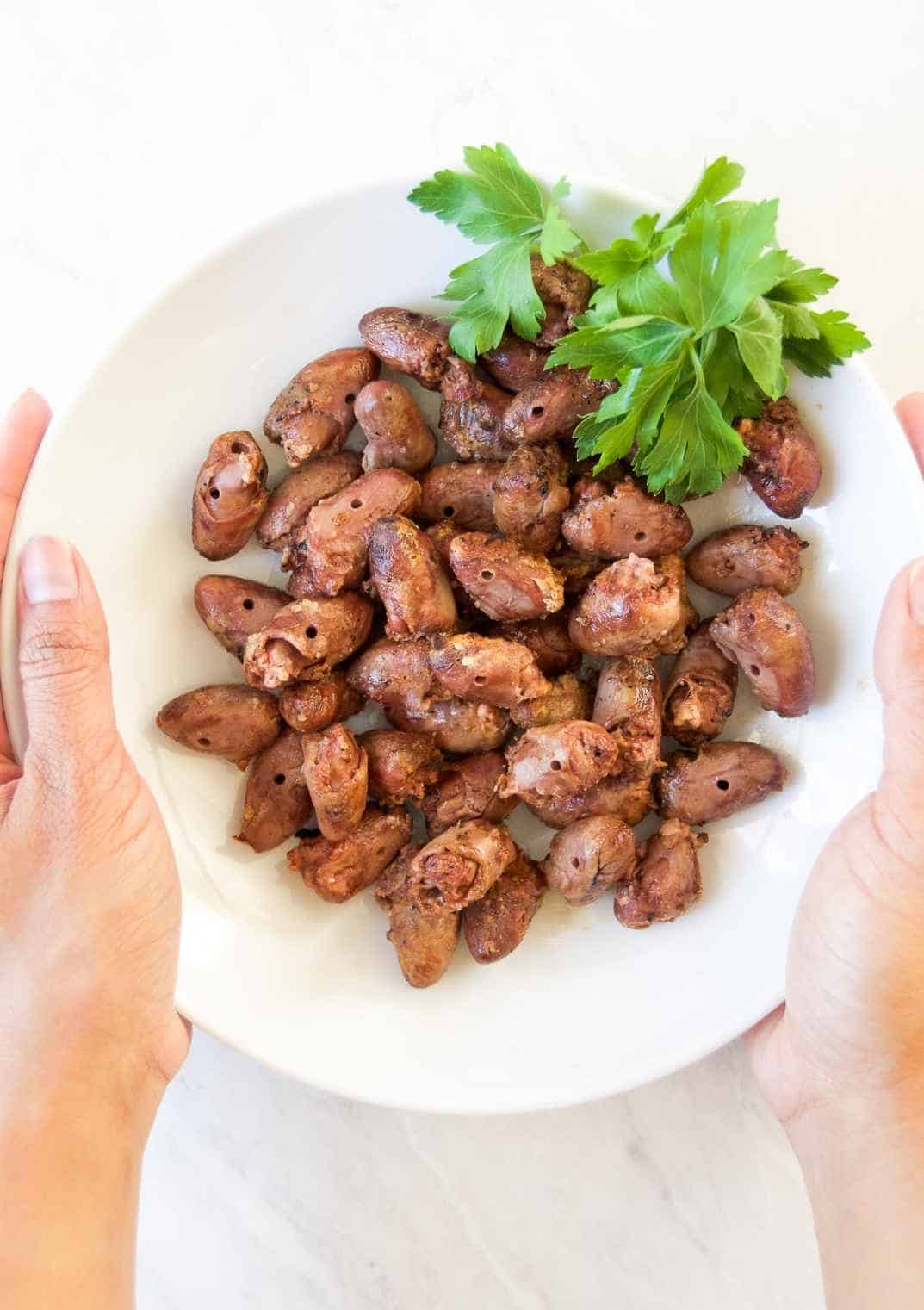 This grilled chicken hearts recipe is an excellent option for a churrasco! Smokey with a hint of saltiness and grease, if you want an authentic addition to a Brazilian barbeque, this recipe is for you.
It can also serve as an excellent appetizer or side for a meal. With just two ingredients, the grilled meat is surprisingly flavorful with every bite.
8.
If you love the authentic taste of Japanese cuisine, then you will love this recipe. Yakitori is the traditional way of doing Japanese skewers.
You can taste the delicious flavors with a tangy sauce with every bite. The steps are also very easy, perfect for those who want to experiment with Asian flavors trouble-free.
9.
Although chicken hearts are perfect for quick cooking, such as stir fry or grilling, trying out some baking can be a welcomed change.
This recipe is an ideal way to let the flavors of the spices seep into the chicken heart. You will surely love the tasty results!
10.
Are you on a budget? Then this cheap chicken hearts recipe might be the one you are waiting for. With the crispy and easy air-fryer recipe, you can quickly whip up a new and exciting weeknight dinner.
Be ready to feel the breadcrumbs and spices within every bite. It's a crunchy dish that no one should miss out on.
11.
Feel the Japanese cuisine within every bite of this chicken heart yakitori recipe. Who doesn't like a good-old charred taste of grilled meat?
This dish is a perfect appetizer or main course. Pair it with some ginger, scallions, and a side of sake; you are in for a delightful light yakitori.
12.
The South African culture is not just colorful in their garments, the colors of the spices and herbs also make this recipe pop with flavors. Ready your pen and paper as you take down the variety of spices you need for this recipe.
Although it needs a wide variety of seasonings, the cooking process is relatively easy. Stir-fry the chicken hearts in a hot pan, and you're done.
13.
This tasty bite-sized recipe is perfect for rice or salad topping. This recipe is for you if you want an easy snack that stars chicken hearts.
Its crunchy outer crust and tender chicken hearts will improve your meal. Although not a natural corn popcorn, this dish works well with some movies.
14.
Oh, this one is coming in hot—spicy hot! This chicken heart recipe is inspired by Indian cuisine. It features various spices such as garam masala, curry, and Kashmiri pepper.
This recipe is a match-made heaven if you love chicken hearts and Indian cuisine. Serve it with some side of rice or roasted vegetables, and you are for an excellent meal.
15.
Want to go into a carb deficit? This keto recipe is a perfect way to do that. You can adjust the spices to your liking with just butter in its formula.
You would only need two ingredients from its name to do this recipe. With just 1g of carbs, this is a perfect addition to your keto diet. It's best served with some roasted vegetables or mashed potatoes.
16.
An easy recipe with crunchy results—this deep-fried chicken heart is an excellent quick snack or appetizer. With fewer than five minutes of prep time, you can make this crunchy dish as a last-minute dish.
Surprisingly, this is a flavorful dish. With its buttermilk coating, the seasoning can seep through to the chicken hearts.
17.
Beer is not just excellent for going well with chicken hearts; it also works as a sauce base. With this recipe, you can try a new taste that will elevate your meal.
Although very finesse in its presentation, you can make this recipe easily. Even a beginner can whip this in no time—that's a promise!
18.
The refreshing taste of tomatoes is a perfect combination of some greasy chicken hearts. This recipe is a combination of tangy and acidity throughout. The two main ingredients' flavors are intense yet do not overpower each other.
You will love this dish if you love some saucy tomatoes with chicken hearts. It's a perfect combo for some toasted buttered bread.
19.
Who doesn't love some excellent herbs and aromatics? This recipe combines the wonderful flavors of rosemary along with chicken hearts. This recipe is perfect for you if you love deeper flavors with your dish.
You will love the excellent taste of this flavor bomb. It's also easy to cook and prepare, perfect for a weeknight dinner.
20.
Stir-fry might be short in the cooking process, but you can ensure the flavors still have time to seep into your chicken hearts.
This quick and easy meal will be your perfect weeknight chicken hearts dish. With its oriental-inspired sauce and cooking style, you can taste a wider variety of flavors in every bite.
21.
Hearty and flavorful—this saucy recipe is perfect for an excellent meal. If you want to introduce someone to chicken hearts, this recipe is an excellent way to do it.
The delicious combination of the steaming onion sauce will teach anyone to chicken hearts without overpowering one's taste buds.
22.
Smokey with a hint of alcohol—you will love the unique flavor of this recipe.
Cachaca is not just excellent for drinking; they are also great for marinating and being the sauce base for your chicken hearts. Taste authentic Mexican influences and enjoy the barbecue version of chicken hearts.
23.
Chinese stir fry has been used in many types of meat, such as chicken, beef, and duck. With this recipe, you can try this cooking style with tender chicken hearts. Expect a flavor bomb when you make this meal.
You can ensure a delicious yet beginner-friendly chicken hearts recipe containing various spices and condiments for the sauce.
24.
Make your family dinner or any gathering special with this chicken hearts and liver paprikash recipe. Many will love the flavorful and unique taste of this recipe.
With many ingredients and spices in the mix, this dish will surely be a star of any gathering.
25.
Originating in Brazil, nothing is more authentic than a Mexican recipe for chicken hearts. The citrus marinade elevates the grilled organ to a whole new level.
It's a perfect appetizer for a barbecue party. You can also serve it with a side of rice or roasted vegetables for a more filling meal.
In Summary
Although an acquired taste, we hope you can find your next dish with this 25 Best Chicken Hearts Recipe. Whether you love some fried, grilled, or saucy chicken hearts, there is a recipe for you. So get into cooking!