Traders in the early centuries carry this bread around the Arabian and Sahara desert. That's when pitas have become a popular staple of the Meditteranean and the Middle East cuisine.
The difference between the Meditteranean and Middle East pita is that the Greek pita is soft, thicker, and has no pockets. Meanwhile, the Middle East pita has a hollow pocket. Despite the slight difference, both pitas are used to scoop or stuffed with protein and vegetables.
Let's focus on the chicken. There are several cooking styles for chicken; that's why grab the opportunity to know more about these recipes. Do not skip the importance of the yogurt sauce; its creamy texture adds to the drama.
If you have tried an authentic pita dish, you will look for it elsewhere. The nice thing about pitas is they are easy to make, and you can enjoy them as a sandwich in the comforts of your home. Try these easy-to-make chicken pita recipes.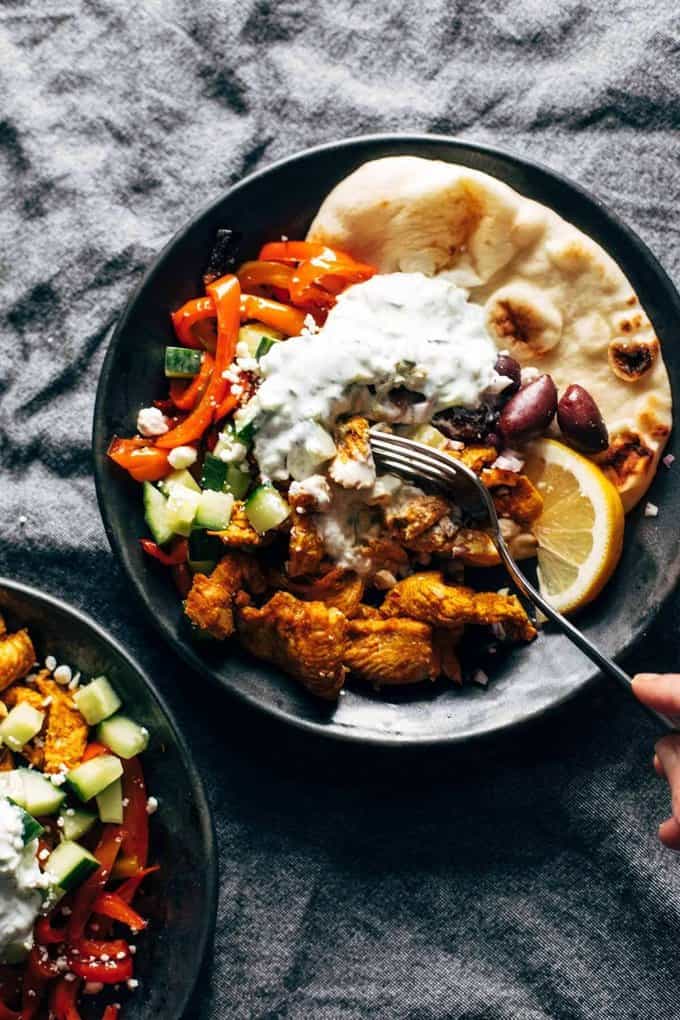 A recipe that is a part bowl, salad, and sandwich. Although this is a pita recipe, you can use any flatbread available. Follow the recipe to have a crunchy and tasty chicken.
The homemade tzatziki sauce, creamy, sour-salty dill sauce, gives the pita experience. But, what brings a twist to the whole pita experience are the fresh cucumber, feta cheese, and kalamata olives as a side or topping.
2. Homemade Chicken Souvlaki Pita
The Mediterranean flavors in this chicken souvlaki skewers are delectable. Look how the chicken skewers are marinated and garnished with fresh tomatoes, red onion, and parsley.
The recipe also shows how to prepare the pita bread and make it fluffy. You have the choice to serve the chicken souvlaki on a bed of rice pilaf or a pita; both give you a heaven taste!
Grilled chicken is perfect for warm days, and this tasty variation is best for backyard parties. Follow the marinade recipe for the chicken breast and give it an ideal grill, do not let the chicken be too charred.
You can add other seasonings to the balsamic vinaigrette marinade if you like. This chicken pita recipe goes with creamy cucumber sauce and cheesy feta cheese stuffed in the pita.
4. Mini Pita Bites + Chicken Fillings
Preparing the chicken and mini pitas might be a lot of work for this recipe. Unlike the other chicken pita recipes that use thick chicken strips, you must cut the chicken into tiny ones to make fillings. Moreover, you have to make mini-sized pitas. Yet, these efforts are definitely worth it!
Note: This recipe uses a different sauce: sriracha mayo. If you cannot tolerate hot and spicy foods, it is better to create a sauce of your liking to coat it over the chicken fillings.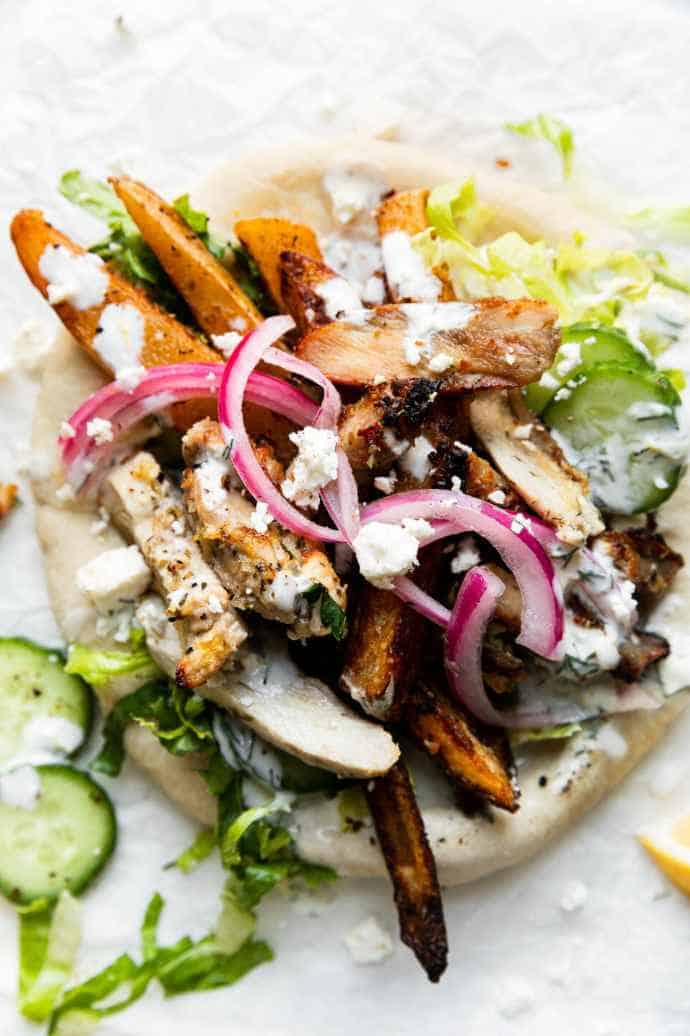 It's time to soak those chicken thighs in a simple lemony marinade. Preparing the marinade and roast the chicken until it is juicy. Make sure that it only has a good amount of grilled char.  You can tuck in a few veggies inside the pita for the absolute best chicken pita experience!
Crispy Greek fries are quite a unique pairing for your lemony chicken pitas. You will definitely love this easy meal prep because of its mouth-watering combination of flavors.
6. Peri Peri Chicken Pitas
Let's stuff the pitas with a South African-inspired menu. Marinade your boneless chicken thigh with peri peri seasoning, and you can even add a peri peri sauce to spice it up. Careful with grilling your chicken; timings must always be right to cook it without many chars.
Complete your pita stuffing with halloumi strips, roasted red peppers, and the greens of choice that you like!
There is nothing better than finding an easy-to-make recipe for your work lunch. It is definitely a win to go over this chicken pita recipe. It shows the basic procedure of making the chicken, and just fill the pita with avocado, tomato, and the greens of your choice.
You barely have time to prepare food in the morning, and chicken pita does not taste funny even when eaten cold. It is the best and easiest thing to have for lunch at work.
8. Chicken Pitas + Greek Salsa + Zucchini Tzatziki
How the chickens are prepared in this recipe is quite the same as the ones in this list. The turn for this recipe is the Greek salsa and zucchini tzatziki.
Put your attention on how Rachel Ray prepared the tzatziki; she sighted some tips on how to give it a taste. Meanwhile, the Greek salsa reminds you of tacos. Although this recipe looks like a lot of work just for a pita wrap, it will all be worth it once you try it.
This recipe is quite basic; there's not much work on the marinade. You only need salt and pepper to season the chicken breasts. But, if you are in the mood to bake, you are welcome to make your pita bread.
What's unique about this recipe is its yogurt sauce and the arugula stuffing. Its yogurt sauce is flavor-mingling, with the tangy flavor from sumac and spice from the red pepper flakes. You can stuff arugula or watercress to add a healthy crunch to your chicken pita.
10. Spiced Chicken Pitas + Tahini Sauce
This recipe is excellent for those who love sweet and spicy foods. Seasoning the chicken with honey and Aleppo pepper does the job. Instead of tzatziki sauce, this recipe introduces the tahini sauce.
Sometimes, tahini sauce tastes bitter but adding the perfect amount of lemon juice, cumin, and garlic makes it an irresistibly creamy and tangy sauce. Stuff the pita with tomatoes, lettuce, or the greens you like.
This recipe introduces the flavorful taste of Indian spices. You must marinate the chicken with garam masala, a blend of spices.
Mix the remaining garam masala with the yogurt sauce. It will definitely add to the taste of the yogurt sauce. If you are unfamiliar with garam masala, you can find it in the spice section of your local supermarket.
This dish is best served with your favorite beer and grilled vegetables.
12. Chicken Pita Pockets
If you are craving a Subway salad, there is no need to tap on food delivery. You can have chicken pita pockets at home, and they taste the same! The tikka masala in the chicken seasoning gives a spicy and earthy flavor, which pairs perfectly with the creamy tzatziki sauce.
But, you might be surprised how this pita is prepared. The sauce is directly mixed with the chicken. At this point, you only have to assemble the pita. Satisfy your Subway cravings with this recipe.
Pesto is quite a classic taste. This recipe simply shows how to prepare a roasted chicken and vegetable mix better and coat them with pesto.
This recipe only has bell pepper, red onion, and zucchini for its vegetable stuffing. But, it suggests that if you want to add or replace the vegetables, make sure that it is roasted at the same time as the chicken.
14. Detroit ConeyIsland Style Grilled Chicken Pita
Some places have signature recipe styles, and this one is among them. This recipe is for you if you are from Coney Island and miss their grilled chicken style. Check out how the chicken is prepared and marinated to keep your cravings in check.
There is no special Greek yogurt sauce in this recipe. It only uses cheese and mayo as a base for the pita, but this isn't lackluster. This recipe is still the best to eat if you miss home.
This might be going to be your all-year favorite pita recipe. Season the chicken with honey and lemon rind for juicy meat, and follow the recipe for the tzatziki sauce.
The tzatziki sauce is the foundation of this recipe, but the Greek salad is the star. Do not forget to stuff the Greek salad inside the pita for a mouthwatering experience.
16. Lemon Chicken Pita Wraps
The delicious tangy taste of lemon chicken pita made it become the people's choice. Its recipe is quite simple, and you have to marinade the chicken in lemon zest and oregano to have a tangy taste on your chicken.
Moreover, this recipe has a tzatziki sauce that you can follow. If you have another preferred tzatziki sauce, you can always modify your ingredients to achieve the taste that you want. Serve your lemon chicken pita with tzatziki sauce.
This might be something you have never tasted before. Its black beans, corn, and spicy pepper jack cheese give the dish a versatile flavor. If you cannot tolerate the strong flavor of pepper jack cheese, you can substitute it with cheddar cheese.
The chicken is seasoned with cumin, chilli powder, and smoked paprika. The black beans and corn add to the taste. You can also squeeze in fresh lime juice for a tangy kick.
18. Garlic Chicken Pita + Toum Sauce
The marinade preparation of the garlic chicken pita is quite different from the others. You have to coat the chicken with garlic paste before grilling the chicken.
Unlike the tzatziki sauce and hummus, the Toum sauce has a more straightforward taste because it only uses salt and lemon juice. Follow the recipe and find out how the recipe owner made a twist to the Toum sauce.
Not an exaggeration, but there is something heavenly in dishes with tropical mango. You know the drill in how you roast the chicken, right? It is up to you how you marinade the chicken. The point of this recipe is its yogurt sauce and tropical stuffing.
If you are allergic to nuts, remove the almonds from the list of ingredients for the Greek yogurt sauce. Find the sweetest avocado and mango in the market to have a flavor-mingling pita.
20. Greek Chicken Gyro Pita
You probably miss the famous gyro street food. It's time to make one at your home. Check out how the chicken gyro is prepared and baked in this recipe.
The caramelized onions and oven-roasted potato fries add to the trick, and you can also stuff fresh tomatoes if you like. Do not forget to follow the Greek tzatziki sauce for a whole experience of the street food chicken gyro.
Get ready to have a festive meal with curry chicken, cucumber yogurt, and sweet chilli slaw. You can season the chicken with salt, pepper, and curry powder, or if you have enough powder, you can coat them.
Do not forget the tzatziki (cucumber-yogurt) sauce to complete your pita. Serve this curry chicken pita with the slaw, and garnish the pita with sliced green scallions to add more flavor to the dish.
Like other pita recipes, the chicken must be marinated and seasoned with salt and pepper. You might be a bit disappointed with the chicken preparation.
The Mediterranean-inspired flavor comes from the hummus sauce. If you are unfamiliar with the sauce, hummus has tahini, lemon, and species. It gives a nutty and earthy flavor to your chicken pita.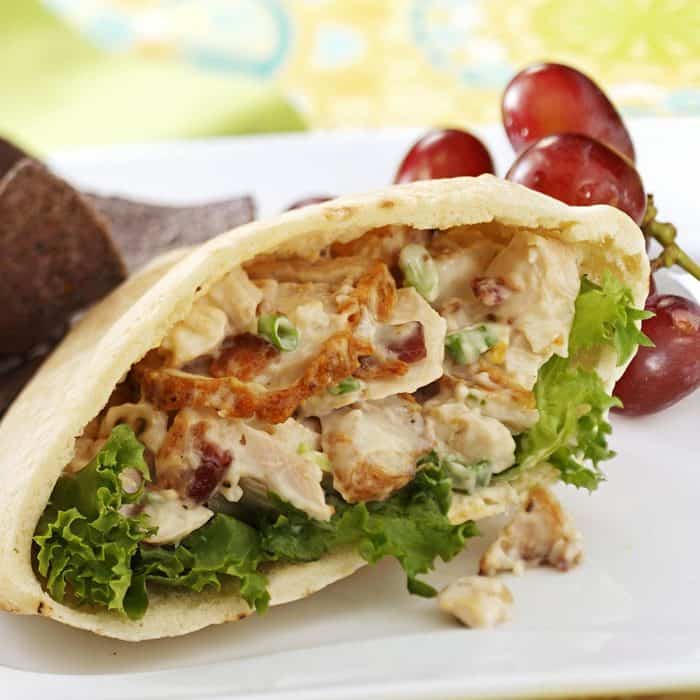 Chicken pitas are usually grilled, roasted, and heavily seasoned. This recipe is best for leftover chickens. You can deep fry the chicken and thinly slice them to stuff them inside the pita bread.
Fried chicken is always better with coleslaw salad dressing. So let's skip the tzatziki sauce today and serve the pita with coleslaw salad dressing and ground mustard.
Final Thoughts
You can try out these chicken pita recipes or create your own. Marinade the chicken breast strips in your desired style and garnish them with fresh vegetables, sauce, or mustard.
Mixing and matching foods are quite an unforgettable culinary adventure. Do not forget the sauce, and you can now create the one that suits your taste buds.