If you're a lover of chicken recipes but want to go easy on the sodium, you don't have to give up flavor for a healthier dish. No way! While chicken already provides health benefits as it offers lean protein and amino acids that build muscle and maintain bone density, eliminating added sodium can increase its health benefits. That's good news!
Consuming too much sodium can cause high blood pressure, bloating, and fluid retention, which can put an undue burden on our hearts and blood vessels. Reducing sodium in your diet can help avoid or lower blood pressure and eliminate the risk of retaining fluid. This may lower the risk of heart disease, stroke, and kidney damage. More good news!
To help you serve low-sodium chicken dishes you, your family, and your friends will absolutely adore, we have put together a list of our favorites. We trust you'll find a favorite low sodium chicken recipe to enjoy again and again. But we bet you'll find several that will have your family and friends coming back for more!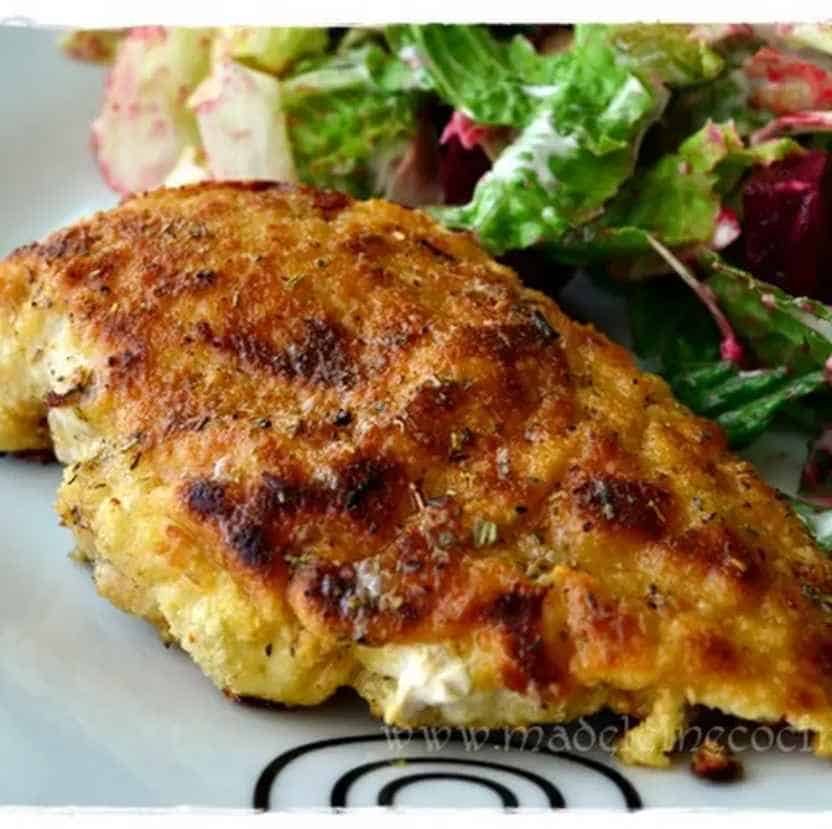 Who doesn't love a beautifully prepared chicken breast, lightly breaded with melt-in-your-mouth flavor? This low sodium chicken recipe does not disappoint!
With a mixture of tarragon, basil, parsley, rosemary, and thyme, this dish provides a savory, buttery, and flavorful taste that will make you forget it's low in sodium. Plus, it offers a crispy texture you'll love.
2. Best Baked Chicken Ranch
Low in carbs as well as low in sodium, this baked chicken recipe will wow your taste buds! First, make sure you take the time to marinate your chicken for the 1 to 4 hours the recipe calls for.
After that, it's a quick and easy recipe made with dark meat, which means it's always succulent and never dry. The ingredient that really "makes it" is a ¼ c. of Ranch dressing. Yum! Pair this with some steamed veggies, and you have a healthy and delicious meal!
This is not just an entrée but an entire meal. The best part is you can prep your chicken and veggies ahead of time, making this an easy dish to put together.
There's a short 30-minute window you'll want to marinate your chicken and veggies before putting them in the oven. Plus, if you'd like, you can add a side dish of brown rice for a more hearty meal. This flavorful dish includes a low-sodium soy sauce in the marinade to give it an oriental splash of flavor.
4. Chicken Fajita Tacos
Using made-from-scratch seasoning and white corn tortillas, this recipe easily controls the amount of sodium while adding miles of flavor.
With tenderized chicken breasts, caramelized onions, bell peppers, lime juice, and cilantro, these tacos will tantalize your taste buds with authentic Mexican flavor. Low sodium? Sure, but you'll never miss it.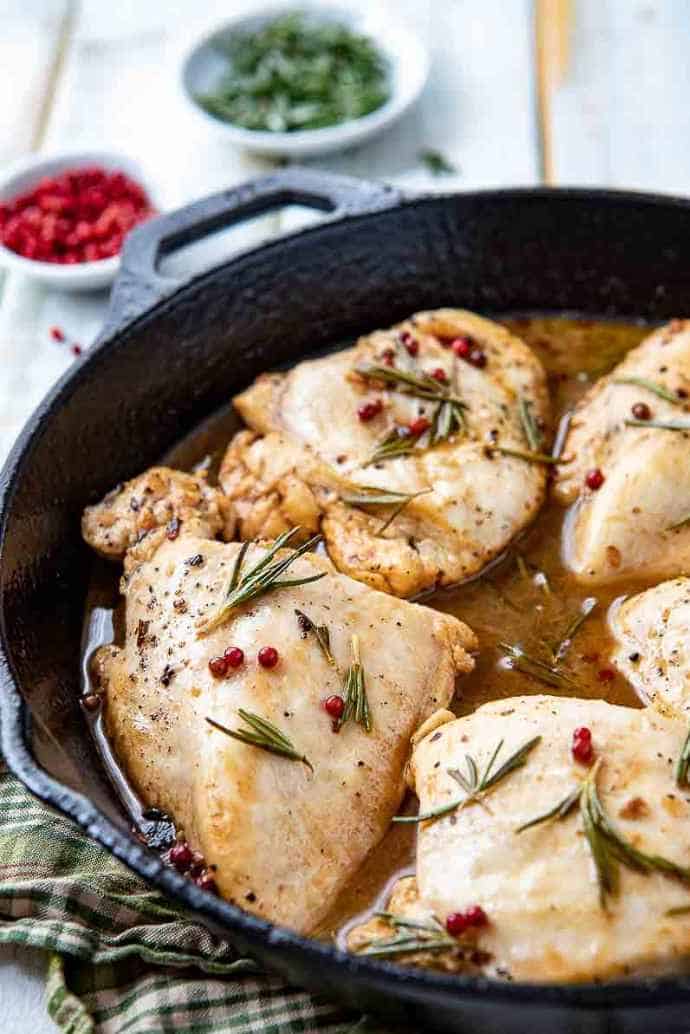 So aromatic your mouth will water before you take the first bite. This low sodium brings an elegant dish to the table that's perfect for date night or any night.
With red wine vinegar and dry vermouth coupled with fresh rosemary and pink (yes, I said 'pink'!) peppercorns, this will definitely be a keeper. Plus, it stores well in the 'fridge for 3-4 days or in the freezer for a quick dinner at a later date.
6. Oh So Easy Ginger & Sesame Chicken
Thought you couldn't have sesame chicken on a low sodium diet? Think again! This is an easy, low sodium recipe with full flavor.
In place of regular soy sauce, it uses low-sodium soy sauce or aminos. Calling for chicken thighs, you can bet this ginger & sesame chicken is deliciously tender and juicy. Toasted sesame seeds give the dish its familiar nutty crunch.
With a crispiness unrivaled by pan-fried chicken, this recipe will check all the boxes for fried chicken texture and flavor.
An American Heart Association recipe, this cooks in 10-15 minutes once in the air fryer. Be sure to allow for 30 minutes in the 'fridge prior to cooking once the chicken is battered. Add in optional red pepper flakes, cayenne, or red hot pepper sauce to kick it up a notch…or two!
8. Low Sodium Chicken Recipe

 (with Dan-O's)

If you're a fan of Dan-O's Seasoning, this recipe is for you! This air fryer recipe takes chicken to the next level with low-sodium and no-calorie seasoning blends.

Stone-ground mustard incorporated into a red and white wine sauce will make this one of your favorite low-sodium chicken dishes. Serve as a party appetizer or as a main dish paired with healthy veggies.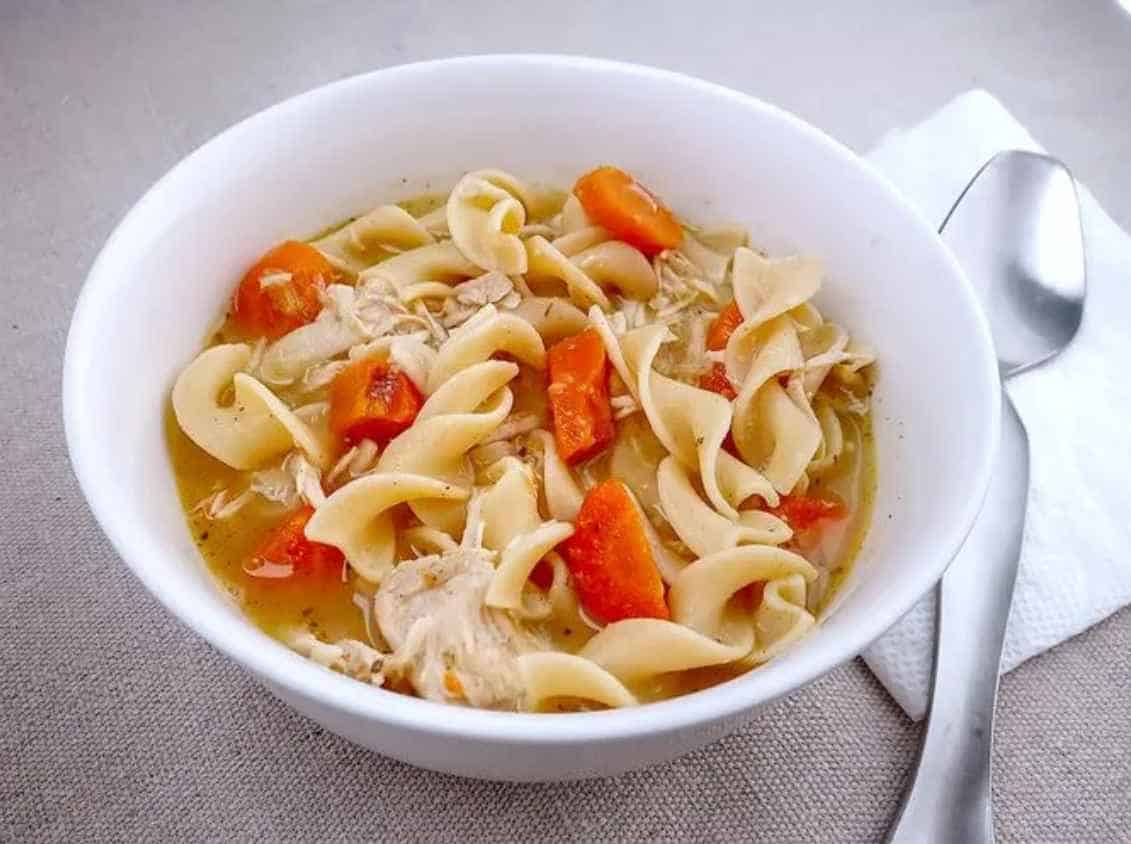 What could be better on a chilly day than a bowl of chicken noodle soup? Nothing, except a 'low sodium' bowl of chicken noodle soup!
This recipe will not only comfort your body and soul but will take only about an hour from start to finish on the stove or using an Instapot. Or, if you're a fan of crockpot soups, feel free to let your ingredient flavors meld in 6-8 hours on low heat.
A perfect blend of herbs and spices make up for the lack of salt. You won't miss it as you devour this delicious combination of bone-in chicken, fresh veggies, and egg noodles.
10. Crockpot Curried Chicken
This dish can be cooked for 4 hours on high or for 8 hours on low in your crockpot. Chicken, vegetables, and curry pair well for a dish that goes great over rice.
Tony's Salt-free Seasoning replaces the salt to keep the recipe low in sodium. Coconut milk, low-sodium, of course, helps make this dish to die for!
When you're in the mood for lighter fare, try this Greek chicken recipe served with sliced tomatoes, garlic bread, and feta.
Fresh thyme, oregano, and rosemary in an 8-hour marinade of lemon juice and olive oil give the chicken a beautiful Greek flavor. With only a few minutes on the grill, this chicken dish will be a big hit!
12. Lemon Pepper Chicken
Whether you make this dish in the oven or the air fryer, you'll have a healthy, tasty dish that takes minimal effort.
The optional cayenne pepper can give it a kick if you like your lemon pepper chicken more peppery. This chicken drumstick recipe is ready in less than a half hour in the air fryer or about 45 minutes in the oven.
Perfect for when you don't have time to make dinner, you'll have time to make dinner with this recipe. It begins with a pre-cooked rotisserie chicken you can pick up at your local store, making prep time about 15 minutes.
Scallions, cherry tomatoes, onions, and celery, in addition to avocado, make this chicken salad unique and delicious!
14. Chicken & White Bean Chili
Wouldn't you agree that a nice, hearty chili is perfect on a cold, wintry day? This low sodium chicken recipe is ideal as it combines white beans with ground chicken along with chili powder, green peppers, and onions.
Add in some diced tomatoes, tomato sauce, and an ingredient you don't often find in chili: corn to give it some sweetness. This dish is perfect when you pair it with cornbread or bruschetta.
With a variety of nine herbs and spices, there's no way you'll notice there is no salt added. This flavorful dish requires a 6-7 pound chicken to roast whole in the oven.
(Be sure you don't choose a "basted" chicken, or you'll be adding sodium to the mix.) With flavors like garlic, rosemary, nutmeg, and more, you'll impress your family and friends with this tender and delicious entrée.
You may want to cook it on a bed of carrots as the recipe suggests or pair it with your favorite vegetable dishes for a delightful meal.
Summary
If you ever believed a low sodium chicken recipe meant less flavor, we hope these recipes have changed your mind.
You can't go wrong choosing any of these recipes when adhering to a low-sodium diet. Who said eating healthy had to be boring? These recipes prove you can make healthy choices and still enjoy flavorful foods. Bon Appetit!