Do you have a box of white cake mix sitting in your pantry? Don't let it go to waste! There's more you can do with it than just bake a plain pastry. With some creativity and additional ingredients, you can convert a box of these baking helpers into various delicious desserts.
Cake mixes can be a great starting point for more creative culinary projects. Using it as a base, you can experiment with different flavor combinations and add-ins to create unique and scrumptious dishes.
These kitchen helpers can also be more consistent in taste and texture. Since the ingredients are pre-measured and blended in a factory, your product will have a uniform mouthfeel and sweetness every time. It's heaven-sent for home bakers and baking newbies.
The possibilities are endless – from cookies to cupcakes to bars. So why not put that pantry staple to good use?
We've asked expert bakers and confection enthusiasts for ideas. Here are 18 white cake mix recipes that are tasty and easy!
Do you want to jazz up a classic vanilla cake? Create a delightful twist to this typical dessert using one of the most iconic boxed mixes.
The outcome is moist, tender, and oozing with chocolatey goodness! It's perfect for grand celebrations or as a gift for someone special. It may be easy to make, but it's sure to impress even the most discerning sweet tooth.
2. Candy Sprinkles Cookies
These cookies are sure to be the newest favorite of the kids in the house. You can make them as an after-school treat or as a lunch box filler. You can even ask your little ones to help out.
It can be a great bonding with your child or something they can do on weekends. The best thing about is that you only need four ingredients! Talk about saving time and money!
Is there a dessert fan in your life that you want to impress? You're in for a delightful surprise with this recipe!
These cookies are soft, fluffy, and sweet – thanks to the white cake mix. You can whip up a batch that'll surely make people go "yum!" The buttercream frosting takes them to the next level with its rich and creamy texture.
4. Cherry and Pineapple Dump Cake
This recipe may have a funny name but it makes up by being so delicious. It's surprisnlgy easy to make and requires only a few ingredients. You can use other canned fruits that you have in your pantry.
The options are limitless! This dish is perfect when you're feeding a large group. A small serving goes a long way. Smother with whipped cream for a complete fruity dessert experience.
If you want to try something new, it's time to make these chocolate chip bars! They're made from basic ingredients that you may already have in your pantry.
You can add dark, semi-sweet, or white chocolate chips. So, indulge the sweet tooth in you. If you're feeling adventurous, you can mix in coconut, walnuts, or almonds. This recipe going to be the star at your next potluck or party.
6. Spice Cake
Are you looking for a special dessert you can serve during Thanksgiving? Look no further because than this spice cake. You'll surely bring out the thankful spirit with the flavors of vanilla, cinnamon, cloves, and nutmeg.
The smell alone offers a warm feeling that your family will remember even after the holidays are over. A generous serving of cream cheese frosting on top is a decadent addition to this pastry.
Make a bridal or baby shower more special with this charming cupcake. You can decorate it with dainty, pastel-colored flowers. Another option would be to make it an all-white masterpiece by adding vanilla buttercream frosting.
You can even add edible pearls or fancy toppers. Since you're using a cake mix, you can easily make many pieces to serve a big crowd. Say goodbye to guesswork and hello to delicious confections!
8. White Sheet Cake with Rainbow Sprinkles
Who knew that you could level up a humble boxed cake mix? By only adding a few ingredients you'll whip up an amazing dessert. The vanilla buttercream frosting makes it moist and sweet.
Top it with a generous amount of rainbow sprinkles . The result is a fun treat for the kids and the young at heart. You can add sprinkles in one color if you're preparing for a themed party.
This American classic is known to have German origins. Its name comes from the word "schnecke", meaning snail-like shape. What sets these cookies apart is that it's softer than the others. It also has cracked top.
This recipe is a shortcut to the usual procedure. You can use the time and effort you've saved in doing activities you love. You'll even have a tasty treat afterward. It's a sweet win-win situation.
10. Loaded Cookie Bars
If a blondie and a cookie had a baby, then this dessert would be it! It combines the gooey texture of a brownie and the crunch of the M & M's. You can also use chocolate or peanut butter chips.
If you're feeling very generous, you can add all of these sweat treats. This recipe is great for lunch boxes, school bake sales, or birthday parties. Do you want to hear the good news? You can make this in 25 minutes.
Are you a fan of apple pie? If yes, then you must make this recipe. The fresh, crunchy apples will remind you of beautiful autumn days. Aside from the boxed cake mix, you only need to buy four other ingredients.
Who knows? You might even have them in your pantry. Preparing it is easier than making the pie. So newbies can surely pull this off. Remember to add a scoop of vanilla ice cream.
12. Tastes Like Homemade White Cake
Some people worry that boxed cake mixes might not taste as good as homemade. But this recipe will appease those doubts.
It teaches how store-bought ingredients can be improved with just a few tweaks. It's a perfect dessert for when you have a lot on your plate but would still like to treat your family to some sweets.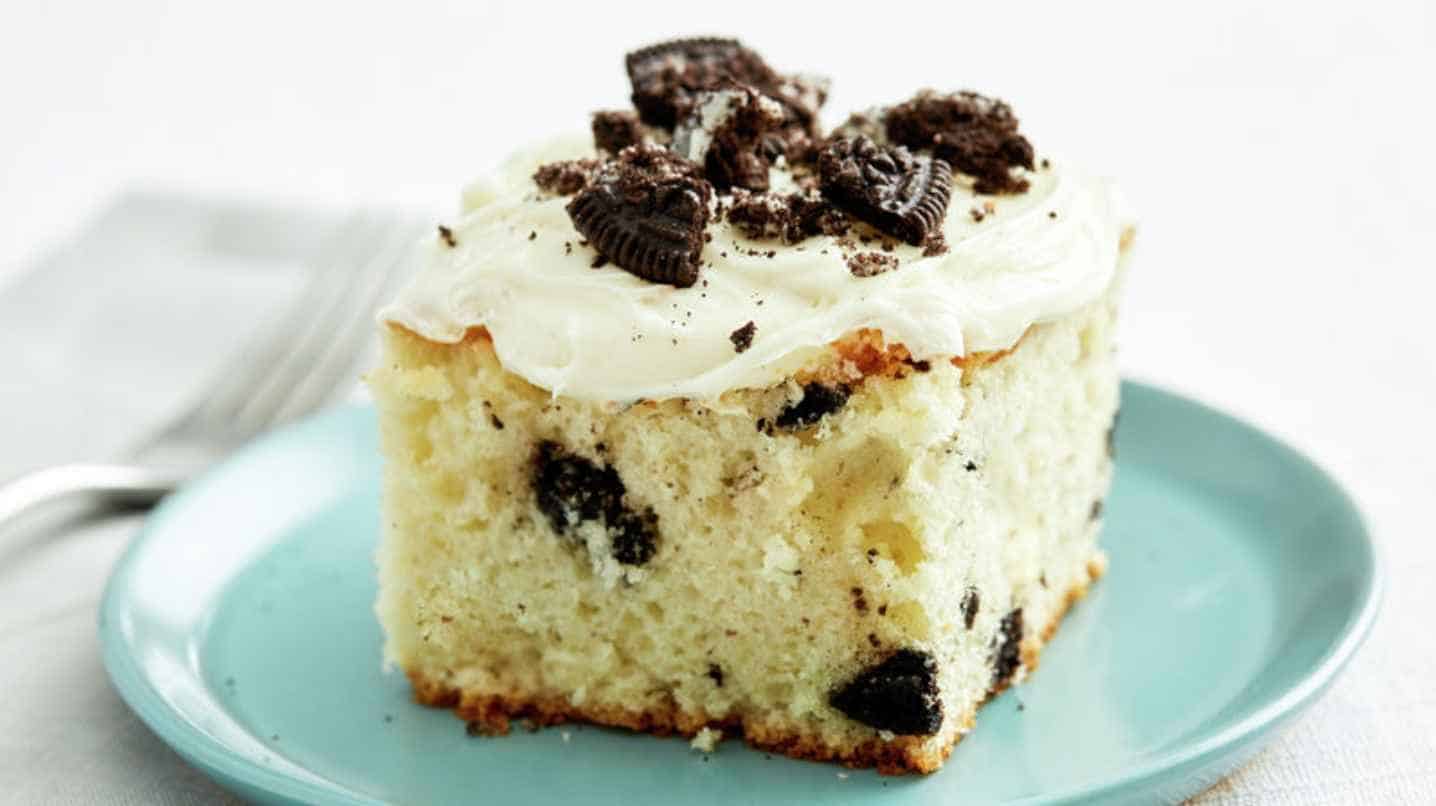 Can't decide between cookies or cake? Why not have both! This delicious treat may look fancy but it assembles in a flash- thanks to the boxed mix.
The bittersweet chocolate cookie and the decadent cream is a match made in dessert heaven. Bringing them to bake sales or potlucks will make you the star of the show. You can decorate them with chopped Oreos to make it appealing to everyone.
14. Italian Cream Cake
Gourmet bakery cakes can be expensive. So, making one at home can be a game-changer. It may look complicated but the cake mix will help you lessen your stress. The secret to this recipe is in creating the perfect layers.
Then, you fill them with the decadent cream cheese frosting. You can choose between toasted coconuts and pecans to decorate the cake and add a deep nutty flavor.
Many couples decide to DIY their weddings since it's more economical and more personalized. If you want to take that journey you can make these cupcakes to serve your guests.
Don't worry these treats won't take too much of your time. Using boxed cake mix can shave hours off your schedule. You'll still have time to do other tasks such as invitations, centerpieces, and decor. The "oohs and aaahs" from your loved ones will surely make you smile.
16. Marshmallow Cake
Marshmallows instead of icing? Who knew this was going to be a great idea? It's less messy to eat and can keep its form longer. It's also a good conversation starter during parties and potlucks.
If you're a fan of smores, then this would definitely appeal to your sweet tooth. Don't worry if you don't have much time on your hands. You can do this under an hour because. Oh, the wonders of cake mix!
The best dishes are those that offer a balance of flavors. Sometimes, desserts can be cloying. This recipe stands out because it has the right amount of tartness and sweetness. There's also a higher chance of you getting it right because of the boxed cake mix.
With just a few added ingredients and some creativity, you'll make a cake that's worthy of bakery space. Your family and friends will surely go back for seconds.
18. Super Moist Vanilla Cupcakes
One of the great things about vanilla cupcakes is that you can add anything you want and it will still taste good.
This recipe may be simple, but you can jazz it up with chocolate or buttercream frosting, sprinkles, and fruits. Do you want it plain? No problem. It's still going to be moist and delicious. Pair it with coffee or tea for an excellent breakfast or midday snack.
Conclusion
In today's super busy world, it pays to have cooking helpers in your pantry. The 18 white cake mix recipes in this article are proof that you don't have to put in too much effort to create delicious desserts. They're all so easy to make and they taste fantastic, too.
18 Best White Cake Mix Recipes
Directions
Select your favorite recipe.
Organize all the required ingredients.
Prep a White Cake Mix Recipe in 30 minutes or less!