If you haven't feasted on chicken gizzards, you don't know what you are missing! It might not be a regular fixture in your family's meals. Some might even think it's too exotic or extreme for their liking.
But for some folks out there, it's something that they have been eating for quite some time now. If you want to kindle the adventurous side of your culinary spirit, this is your chance! Don't be afraid to take the plunge and check out the 18 chicken gizzard recipes below.
These recipes are made by a diverse group of people who know just how delicious chicken gizzards are, especially if they are cooked right.
And contrary to what you might think, these recipes are not difficult to follow. It's definitely something you can do even if you have not cooked chicken gizzard or innards at all!
For this classic recipe, you only need nine ingredients. And what's even better is you can prepare this dish in five easy steps. It starts with boiling the chicken gizzards and salt for 30 minutes.
And while that's happening, you can start working on the onion sauce. When everything's ready, enjoy it with a hot serving of rice! It might look and sound plain, but the flavors are to die for!
2. Healthy Korean Stir-Fried Chicken Gizzard
There's more to Korean cuisine than KBBQ! And if you want to go beyond the dishes you know, learn how to cook the appetizing Stir-Fried Chicken Gizzard.
If you don't speak Korean, this recipe video has subtitles. The ingredients are presented brightly and clearly, allowing you to take everything in. And since this recipe is all about being healthy, try using organic ingredients if you can.
Whenever you think of Yakitori, you would probably think of chicken meat. Well, here's something different! It's Yakitori made of chicken gizzards or Sunagimo.
Start the cooking process by boiling the chicken gizzards for 40 minutes. Since it'll take a bit of time to boil the gizzards, you can concoct the sauce made of garlic, Sriracha, and Teriyaki. Skewer the chicken gizzards and then cook in the oven.
4. Tender Fried Chicken Gizzards
This is your sign to fry some tender chicken gizzards at home! If you doubt your kitchen abilities, this recipe might just change things around for you! It's simple and straightforward!
Tenderizing the chicken gizzards makes a difference. You will get a first hand experience of that once you start feasting on these fried goodness. And to complete this dish, recreate the tasty dipping sauce too!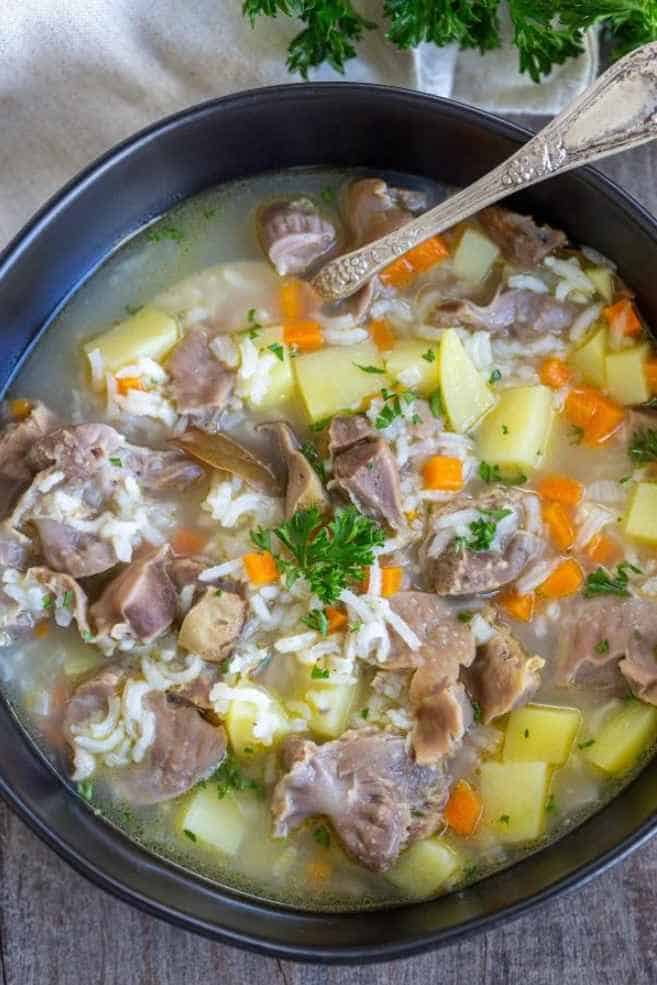 Are you tired of the usual cream mushroom soup? Well, here's a twist you might have been looking for! This recipe for Chicken Gizzard Mushroom Soup has the list of ingredients and photos to guide you.
There's even a guide on how to clean the chicken gizzards before cooking it. As long as you follow the instructions, you will be able to put together this hearty soup well!
6. Spicy Deep Fried Chicken Gizzards
Watching this recipe video would only take up three minutes of your time. By the end of this short video, you will be itching to make these Spicy Deep Fried Chicken Gizzards!
Think of this as the gizzard version of spicy fried chicken. You can see everything you need and what to do with them in this clip! It is perfect as either your appetizer or main dish!
You will appreciate some Deep Fried Chicken Gizzards if you love anything fried. This recipe would pair well with your favorite beer. The directions start with marinating the gizzards.
And don't miss out on the other steps like simmering, dredging with flour, and frying. Even if it's your first time preparing this, it won't be a problem because there are photos to go along with the instructions.
8. Melts In Your Mouth Chicken Gizzards
This chicken gizzard recipe is not for the impatient eaters! If you are asking why, it's because it takes about five hours to cook! And that excludes the preparation time.
However, if you are willing to wait, this recipe will give you one of the most tender chicken gizzard dishes you have tasted in your life! The gizzards soak up the gravy, making everything taste better!
Here's a dish that might not be on the menu of your favorite Chinese delivery place. Making this at home would seem like being transported to China. The ingredients list might look long, but each component plays an important role in the dish.
The recipe emphasizes the importance of cleaning and marinating the chicken gizzards before cooking it. Photos are included in the recipe, showing you how cooking steps shoud be done.
10. Buttermilk Deep Fried Chicken Gizzards
One of the secrets of this recipe is tenderizing the chicken gizzards twice. And you might not know it, but baking soda is a good tenderizer for the gizzards.
If you don't want to deal with a lot of mess on the kitchen counter, use a resealable bag to coat the buttermilk marinated chicken gizzards with dry batter. Fry them until golden brown and enjoy!
Southern food is synonymous to comfort food. And this Southern Fried Gizzard recipe does not disappoint!
Before we get into the thick of things, there are two ways to prepare this. You can choose to stew or marinate the gizzards before cooking. It depends on whether you prefer the chicken gizzards to be more tender or chewy. When that's out of the way, it's frying time!
12. Boiled Chicken Gizzards
You don't always need complicated or elaborate cooking techniques to make something delish! Sometimes all it takes is the right ingredients and boiling them together in one pan.
Well, that's certainly something you can achieve with this Boiled Chicken Gizzard recipe. Once the liquid has reduced, serve these chicken gizzards with some rice and hot sauce.
Adobo is one of the representative dishes of the Philippines. It's usually made of chicken or pork. However, it's also possible to cook this dish using Chicken Gizzards.
It pretty much uses, more or less, the same ingredients. What makes this recipe stand out is that there are tips and techniques that you can refer to that would make this adobo variety even more delicious!
14. Old Fashioned Chicken Gizzards
Food can take you back to some of the best moments of your childhood. And this recipe is a testament to that. This old fashioned way of chicken gizzards will take you to Hungary.
For this recipe, you need a lot of onions. It would make this chicken gizzard dish even more flavorful. Add some chicken stock and boiled gizzards to the onions and let them cook.
There's nothing quite like the smell of herbs and spices enveloping your kitchen. And if you miss those rich aromas, you can always make some curry. But well, this time around, you could try making it with Chicken Gizzards.
Chicken Gizzard Curry is your best bet if you want a curry with a twist. Instead of the common meat ingredients, chicken gizzards sound like something a fearless food lover would love!
16. Chicken Gizzards With Tomato Sauce
If you can't get enough chicken gizzards and rice, this recipe must have been made just for you! Following this recipe won't be too hard, even for novice cooks.
The instructions are also flashed on screen. You can find the full list of ingredients in the description box.
When the tomato-based chicken gizzard dish has reduced, time to grab a plate of rice and eat to your heart's content! Consider it  chicken gizzards for your soul!
If you want something yummy but cost-efficient, then this tried and tested recipe is for you! And it would only take 25 minutes of your time to prep and cook! Pretty much everything you need, with the exception of the chicken gizzards, can be found in your kitchen.
After purchasing the chicken gizzards, don't forget to clean and boil before sauteing it with the other ingredients.
18. Creamy And Spicy Chicken Gizzards
If your mouth is watering at the thought of eating creamy and spicy chicken gizzards, you are not alone! The recipe starts with frying the gizzards until they are ready. Preparing the rich cream sauce comes next.
When it has reached the right consistency, add the fried chicken gizzards and let them take the flavors in. If you want this dish to be a little spicy, add some chili flakes at the end!
Chicken Gizzard Cookout
If you are running out of ideas in the kitchen, there are numerous dishes that you can recreate at home, including the 18 chicken gizzard recipes at your disposal. Once you have tried one dish, you will be begging to taste all the other ones!