Everyone loves chicken meatballs. After all, this dish is relatively easy to make with everyday ingredients of ground chicken, breadcrumbs, egg, seasoning, and olive oil. Whether it's for a fancy weeknight dinner, a side dish, or a chill appetizer, chicken meatballs are something we always crave for.
In this blog, we've done our best to search for chicken meatball recipes that come with a twist but are relatively super simple and easy to make. On top of that, most of the recipes are healthy and gluten-free.
For a bonus deal, we've put some food pairing ideas too! So, without further introduction, here are the 18 Best Chicken Meatball Recipes you must try!
Do you like a dish you can stock in your fridge throughout your busy week? Baked Chicken Meatball Recipe is meal-prep and freezer friendly. We love this recipe because it can go with anything at any time.
You can have it alone, but it's best to serve it with spaghetti, baked rigatoni, or pasta. But if you're up for a quick but healthy lunch, pair it with green beans or mashed cauliflower.
2. Hot Honey Chicken Meatballs
Here's a recipe for a juicy and tender meatball coated in spicy honey butter. Unlike other chicken meatball recipes, this one comes with a twist. There's a handful of spice ingredients such as onion and garlic powder, oregano, and sweet and smoked paprika.
All in all, it's wrapped in a spicy but lovely, sweet honey sauce for a flavorful taste. Once you have this dish, I bet this meal will be your ultimate go-to.
Are you on the lookout for a healthy but delightful, hearty meal? This healthy chicken meatball recipe will be your perfect match! One of the fantastic things about this dish is that it's guaranteed high in protein, clean eating, and gluten-free!
Instead of using breadcrumbs, this recipe goes for an almond meal as the alternative to add nutrients and fiber to the meatballs. And yes, it's nothing but impressive!
4. Chicken Meatballs in a Cream Sauce Recipe
Searching for the best dinner idea on a busy weeknight? Here's a juicy, tender, and plump chicken meatball recipe wrapped in a flavorful, creamy sauce. I highly suggest pairing these lofty meatballs with a bowl of buttered egg noodles or creamy mashed potatoes.
For the ingredients, prepare ground chicken, cooked white rice, onion, egg, garlic clove, oil, and flour. Of course, don't forget salt and pepper to taste.
Greek Chicken Meatballs are one of the best but most leisurely meals to prepare in the kitchen. You must make a meatball mixture, fry them, and serve them with side dishes! Wrapped this dish with your favorite veggies or a hearty scoop of homemade tzatziki!
This recipe bursts with flavors loaded with garlic, fresh herbs, and spices. Also, Greek Chicken Meatballs are a fantastic option to prepare in advance. You can reheat it anytime for an excellent protein source.
6. Juicy Baked Chicken Meatballs
Super easy but tasty, Currytrail takes us into another ride of a healthy chicken meatball recipe. This one would not consume your busy schedule since it would only take 10 minutes of preparation time and 25 minutes of cooking time.
Even more fantastic is that these Juicy Baked Chicken Meatballs are much healthier since they're not cooked on a skillet filled with oil. Plus, it goes with anything! So, if you're looking for a freezer-friendly dish for your weekly meals, try this flavorful but healthy chicken meatball recipe.
Chicken Parmesan Meatballs will make a fancy dinner idea on a weeknight if you're up for something warm, hearty, and easy but cheesy. With only a few ingredients and steps to follow, you'll make the crispiest chicken meatballs you had in your entire life.
Not only that, but this chicken meatball recipe also comes with a chunky garlic Tomato Sauce. Try pairing this dish with zucchini noodles or whole-wheat pasta for a low-carb option.
8. Easy Italian Chicken Meatballs Recipe
Cheers to an easy sheet pan dinner with this Italian Chicken Meatball Recipe loaded with red onions and tomatoes. There are four main steps to making these Italian-style chicken meatballs from scratch.
First, prepare ahead the mixture of chicken meatballs. Then, shape it into balls. Afterward, arrange them on a lightly oiled baking sheet. Finally, put them into an oven at around 400 degrees Fahrenheit. If you're going low carb, wrap this delightful dish with baked zucchini sticks or a salad.
Looking for a healthy recipe you can add to your weekly menu rotation? This sweet & spicy chicken meatball recipe would make a fantastic addition to your kitchen. Just imagine the tender and juicy chicken coated with a delicious sauce.
To cook this chicken meatball recipe, gather ground chicken, ginger, pepper flakes, garlic powder, and coconut aminos. Other ingredients include honey, sriracha, green onions, and sesame seeds. For a warm and delightful meal, serve this with a green veggie like sauté snow peas or cauliflower rice!
10. Barbeque Chicken Meatballs
Meatballs would make a classic appetizer for almost every occasion, whether it's the Thanksgiving Holiday or a birthday party. So, here's another recipe that would bring magic to the dining table. You don't have to worry because you can buy all the ingredients at the nearest grocery store.
Shop for ground chicken, Boursin garlic and herb cheese, sour cream, grated onions, egg, parsley, and breadcrumbs. Prepare butter, barbeque sauce, paste, and sweet chili for the sauce.
Whether you want to sneak extra veggies into your everyday dinners or just run out of some delicious dinner ideas, this dish will never disappoint! You can cook Baked Spinach Chicken Meatballs for only around 30 minutes.
And voila! You can add them to pasta, salads, rice, and anything else! We promise that every bite of these healthy chicken meatballs is absolute perfection. The bonus part is there's an egg-free and dairy-free variation available.
12. Butter Chicken Meatballs
Featured as one of the epic meatball recipes, Butter Chicken Meatballs is a great dish to try in the comforts of your home. All of the ingredients are easy to prepare. Shop for breadcrumbs, a cup of milk, garlic clove, egg, ground chicken, and vegetable oil.
This recipe simplifies your weeknights if you're searching for an easy but fancy dinner idea. It can be a fantastic comfort food after a long, tiring day.
Now, let's go to an Asian-inspired recipe that would make an easy but healthy appetizer ready for less than 30 minutes. Filled in a homemade glaze, Asian Chicken Meatballs are something that would make you and your family crave more.
Collect these ingredients: ground chicken, sesame oil, breadcrumbs, ground ginger, soy sauce, minced garlic, grated onion, and egg. If you like this recipe as your main course, it's best to serve it with rice and veggies!
14. Buffalo Chicken Meatballs
Here's a recipe that would do wonders at casual or elegant events. Divas Can Cool takes us into a quick but addictive buffalo chicken meatball recipe that will satisfy your cravings.
A real crowd-pleaser and filled with buffalo flavor, this dish would pair well with anything. But for our recommendations, try having them with carrots and celery sticks or a blue cheese dressing for a hearty appetizer.
Nicole Addison introduces another go-to dinner recipe that everybody would genuinely enjoy. On top of that, Ginger Ground Chicken Meatballs are the perfect addition to veggies, noodle dishes, and our favorite stir-fries.
All the ingredients you need come in handy, like ground chicken, green onions, sesame oil, ginger, soy sauce, egg, breadcrumbs, and garlic. So, the next time you're looking for a 30-minute meal idea, try this chicken meatball recipe. You'll love it!
16. Teriyaki Chicken Meatballs
Soft and fluffy, Teriyaki Chicken Meatball is a dish that the whole family, even kids, would love. In Japan, this recipe is called "hambagu." With only 30 minutes of preparation, this recipe will give you a full, hearty meal that is perfect for hectic days.
Prepare ground chicken, tofu, sweet bell peppers, scallion, ginger, kosher salt, oil, and ground black pepper. Then, top the meatballs with a delicious glaze made of Teriyaki Sauce.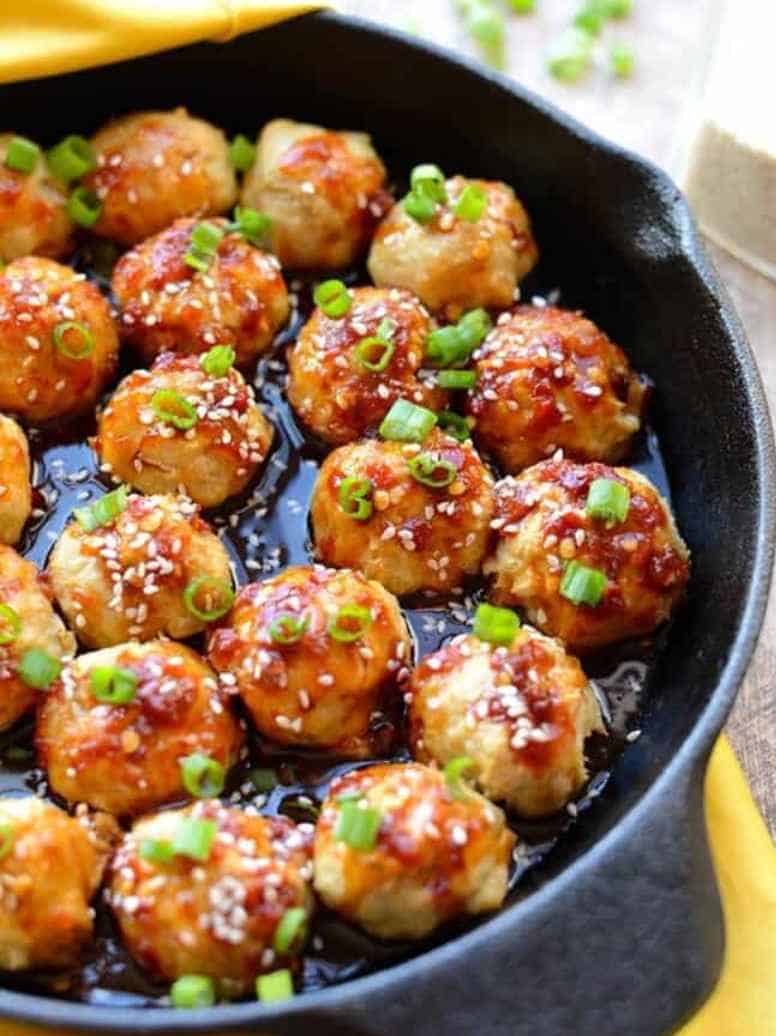 Kung Pao Baked Chicken Meatballs can serve as a main course meal with rice and veggies. But there's no problem if you like it as your appetizer.
This recipe lets us have a zing on our typical chicken meatball by filling it with homemade Kung Pao Sauce. If you want to turn this recipe into a healthy meal, use a gluten-free flour blend and rolled oats.
18. Hawaiian Chicken Meatballs
Finally, let's go tropical by having these flavorful Hawaiian Chicken Meatballs. The sweet and savory sauce loaded with pineapples makes this dish extra special.
This filling truly enhances the taste of cooked chicken meatballs. If you like to know more about the cooking steps, watch this video recipe from Chef Sheilla's YouTube Channel.
The Final Takeaway
Chicken Meatballs belongs to one of the easiest but super yummy meals to make. All of your loved ones and friends would love to have it!
So, don't worry if you like a delightful recipe to add to your fantastic food menu or are running out of unique and healthy dinner ideas. Just give these 18 Best Chicken Meatball Recipes a shot!