Sauteed chicken breast is a great weeknight meal idea. It's fast and relatively simple. Best of all, you can think of it as a blank canvas. Because the basic concept is the same, it's easy to choose different sauteed chicken breast recipes based on what you are in the mood for.
When compiling this list, I used several criteria. I chose recipes that are relatively simple, yet tasty. This allows you to whip up a great meal any time, without spending a lot of time searching for obscure ingredients.
We'll start with the simplest recipe. This is a great choice if you have a recipe that calls for cooked chicken or sauteed chicken as a starting ingredient.
You can use this recipe with boneless skinless breasts or breast halves. If you plan to use skin-on breasts, you'll begin cooking with the skin side down. Keep in mind that bone in chicken takes a bit longer to cook.
You can use butter, vegetable oil, or olive oil.
2. Small Sauteed Chicken Breasts
This method can be used for chicken breasts, filet mignon, and fish. Because you are using small pieces of meat, they will cook quickly in the saute pan.
The key to this recipe is to pound your chicken breasts before cooking. You'll want to use boneless chicken breasts. Cover with plastic wrap. Then, pound it with a mallet or a heavy pan, until it has a uniform thickness.
Before cooking, you will dredge the chicken in flour. This helps keep the chicken juicy during cooking.
Fresh herbs and ginger bring this recipe to life. If you are craving a light dish, this is the recipe for you. You'll need fresh ginger, fresh basil leaves, and fresh mint leaves. You'll also season it with sea salt and black pepper.
This recipe provides a fresh taste that will brighten up your pallet, and possibly even your day.
4. Extra Juicy Sauteed Chicken Breast
Looking for extra juicy sauteed chicken breast recipes? This is one of my favorites. To make extra juicy sautted chicken breast, you'll start by pounding the chicken to an even thickness. Then, you'll pat it dry to remove any moisture from the surface.
The recipe uses pink Himalayan salt, and pepper. You can use any type of salt, or add other seasonings if desired. Sautee in olive oil. Be sure not to crowd the pan.
The chicken will have a light crust when cooked. The final step is to place the chicken in the bowl, and cover it with aluminum foil to let it rest.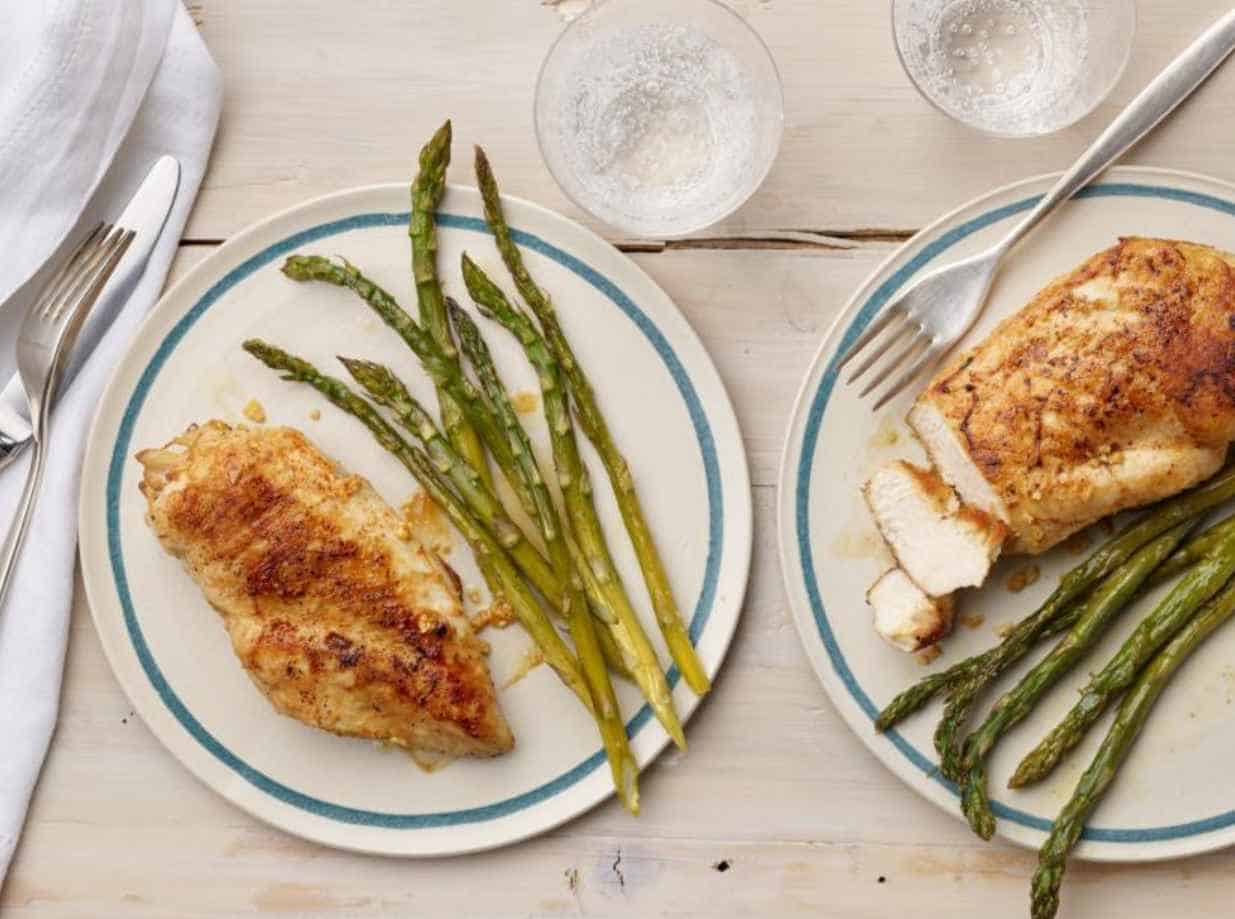 This recipe calls for seasoning salt, cayenne pepper, and black pepper. You'll saute the chicken in butter, for a rich flavor.
You'll start by seasoning the chicken. Then, add garlic to your skillet and allow it to satuee for one minute before adding your chicken breasts.
Once the breasts are cooked, allow them to rest in the pan. The pan juices can be used as a light sauce. Just drizzle it on the breasts before serving.
6. Sweet and Savory Sauteed Chicken
This recipe is unique, because it gives you a very flavorful, sweet and savory chicken breast.
You'll start by adding salt and pepper to the breasts. Then, flour them lightly. Sautee the breasts.
Here's where it gets interesting. You'll remove the breasts from the pan. Then, you'll make the sauce. The sauce includes sauteed garlic, honey, vinegar, and soy sauce.
Once the sauce is ready, add the chicken breasts back to the pan, and allow them to simmer.
This recipe offers a Mediterranean take on sauteed chicken. It's bright, slightly savory, and tasty.
For the recipe, you'll need boneless skinless chicken breasts, olive oil, and three cloves of garlic. You'll also need the juice and zest or rind of two lemons, and fresh chopped parsley.
Serve the chicken on its own, or pair with your favorite pasta or salad to make it a meal.
This recipe is perfect for summer, but you can enjoy it anytime of year. You'll start by seasoning with salt and pepper, and sauteing the chicken in butter.
Then, you'll allow the chicken to rest on a serving plate. Now you can create the sauce. You'll need shallots, white wine, Dijon mustard and cream.
Create the sauce in the skillet that cooked the chicken. Then, spoon the sauce over the perfectly sauteed chicken breasts.
This is one of the most unique sauteed chicken breast recipes on the list. You'll cube the chicken breasts before sauteeing it. Sautee the chicken, then set it aside.
You'll slice the jalapeno, garlic, and onion. Place them into the pan to saute. Sauteing these ingredients brings them together, and lowers the heat of the jalepeno.
Jalepeno gives the dish heat and a spicy kick. You'll also need garlic and onion, which gives a savory flavor. If you want to make the dish milder, you can remove the seeds and pith from the jalapeno before cooking.
The surprising ingredient in this dish is tomato. Add a freshly diced tomato to the pan. Then, you can add your chicken breast back to the pan, continue cooking until warm.
This recipe provides a fast meal that's easy to make, but still tastes great. You'll start by preparing the chicken.
Chop the chicken into bite size pieces. Add salt, pepper, paprika, and vegetable oil to the chicken, and set it aside.
You'll saute garlic, onion, and tomato paste. In another skillet, saute your chicken breasts. Next, add the chicken to the onion mixture.
Cook the rice. In the empty skillet, you'll add diced onion and pepper. This is added to the rice when cooked.
Onion and dill sauteed chicken breast is a creamy yet light dish. You can make it a meal by adding steamed broccoli or rice.
You'll start by seasoning the chicken with salt and pepper, then searing the breasts. Place the chicken on a plate covered with foil to rest.
Then, you'll add chicken broth, lemon juice, dill, and flour to the pan. Allow it to cook for 3 minutes. It should form a creamy sauce. Then, simply add the chicken back to the pan.
12. Healthy Mushroom Chicken
Healthy mushroom chicken is a great choice for those on a diet or simply eating healthily. Saute the chicken in a pan. Then remove the chicken and cover with foil to rest.
Then, you'll make the mushroom sauce. Add garlic, onion, and rosemary to the pan, along with sliced white mushrooms. Add chicken broth to create the sauce, and then add the chicken back to the pan.
Sauteed chicken with artichoke hearts is another healthy meal your entire family will love. The recipe begins by sauteing the chicken breasts.
Remove the chicken from the pan. Then, you'll add broth, artichoke hearts, olives, capers, lemon juice, and oregano to pan. Once it begins to boil, add fresh parsley.
Top the chicken breasts with the mushroom sauce, and garnish with a lemon wedge.
14. Sauteed Dijon Chicken with Asparagus
This is one of the more original sauteed chicken breast recipes. You'll start by slicing the chicken breasts using a butterfly cut, then flatten.
While the chicken is sauteing, you will saute the asparagus in a separate pan. The asparagus should be charred when finished cooking.
When the chicken is finished, remove it from the pan and place on a serving platter. You'll add chicken broth and Dijon mustard to the pan. Stir well, then add the tarragon. Allow it to simmer.
Once the sauce is finished, pour it over the chicken breasts. Serve asparagus spears on the side.
This recipe begins by sauteing the chicken breasts. Remove from pan and cover to keep warm.
Next, mix chicken stock, balsamic vinegar and honey in a bowl. Add the garlic to your pan. After 1 minute, add the chicken stock mixture. Add the chicken to the pan, and allow to simmer for 4 to 6 minutes on each side.
The Best 
Sauteed Chicken Breast Recipes
Now that you know the best sauteed chicken breast recipes, which will you make first? Sauteed chicken is easy and healthy, making it a great choice for dinner time. With so many recipes, you'll never get bored.
Best Sauteed Chicken Breast Recipes
Directions
Select your favorite recipe.
Organize all the required ingredients.
Prep a Sauteed Chicken Breast Recipe in 30 minutes or less!