Chicken terrine is a popular French dish appetizer. It is a pâté layered with ground chicken and flavored with herbs, spices, vegetables, and sometimes with other meats. The recipes for chicken terrine are versatile and easy to make.
Whether you are looking for a simple and classic version of chicken terrine or love to try one with a unique twist, we got you covered! Let's get started with the must-try recipes for chicken terrine.
Although you can use any meat you like, the natural and rich terrine is easily made with chicken meat. There are several ways to make a chicken terrine. We will show you 15 unique ways to make a chicken terrine.
Jango's recipe for classic chicken terrine shows the traditional way. Chicken terrines are supposed to be difficult for first-timers, but the recipe made it easy to follow. This recipe highlights chicken terrine as a perfect snack or freezer meal. Refrigerate the chicken terrine for 3 to 48 hours, it depends on how you want it served.
2. Gelatin Chicken Terrine
This recipe is unique. Chicken terrine is a classic French dish we all know, but how this recipe is assembled makes it special.
In this recipe, the ground chicken, herbs, and spices in a loaf pan are topped with a layer of gelatin. The gelatin gives the terrine a unique texture and flavor. You can customize the spices in the recipe to your liking. When the terrine has set in, the gelatin holds its shape.
You can serve the gelatin chicken terrine cold as a delicious light entrée or appetizer.
The recipe highlights high-quality meats and seasonings to achieve the perfect texture and flavor of the dish. Terrine de Campagne uses chicken livers, lean pork, bacon slices, and grounded fatty veal. It is important to note that you can have several other types of meat in the recipe, as it is not exclusive to chicken.
After the preparation, place the chicken terrine in the refrigerator to chill. You can leave it for 4 hours or until it is cold. If you want the terrine to develop more flavors, leave it inside the refrigerator for at least 24 hours.
Terrine de Campagne is best served with pickles, mustard, and crusty bread. You can also experiment and add other variations to customize the flavor.
4. Michelin Star Chicken Terrine
A gourmet chicken terrine that will surely impress your palates— truffles, foie gras, and Madeira wine; unique ingredients, you mostly see in gourmet dishes.
Start by preparing the dish in a terrine mold. The terrine is placed in a water bath and slow-cook to give it a fully developed flavor and texture. After the terrine is fully cooked, you can chill and serve it cool with brioche, chutney, and some greens.
But since this is a gourmet dish, the foie gras and truffles give the dish a luxurious and indulgent flavor, and the Madeira wine adds depth if complexity and richness to the dish.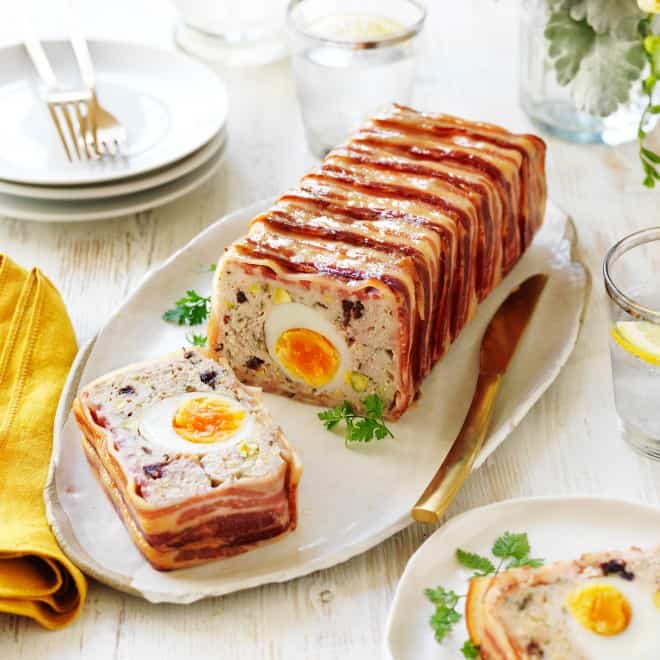 Chicken terrine is a French dish, but this recipe is Australian-style! The recipe owner claims this is best for a hot Australian Christmas. This recipe has a unique modern twist. It has an egg in the center and the terrine is wrapped in bacon strips. What a creative way to add extra protein, right?
It may be delicious, especially when fresh from the oven, but refrigerate the chicken terrine overnight before it is best to serve. Place chervil on the dish when serving to enhance its aroma.
6. Cold Starter Chicken Terrine
A delightful and refreshing dish that is perfect for warm weather or as a light appetizer. This chicken terrine recipe features ground chicken seasoned with herbs, species, and vegetables, then molded into a loaf or terrine shape and served cold.
The terrine is typically prepared ahead of time and chilled in the refrigerator for several hours or overnight to allow the flavors to develop fully and the texture to set. Once the terrine is cooled, it is sliced into thin pieces and served with various accompaniments, such as crusty bread, pickles, and fruit chutney.
Some love to customize this chicken terrine dish and add unique flavors.
Again, the chicken terrine is a French dish, but let's have it Indian style! This recipe is from a renowned Indian Sous Chef. It starts by instructing how to create chicken roulade, home-style mint chutney and saunth chutney.
This recipe uses papdi as its base. When the chicken roulade, mint chutney, and saunth chutney is assembled, chat masala is sprinkled on top to give the chicken terrine a little spice.
8. Festive Chicken Terrine
This festive chicken terrine recipe is perfect for special occasions, whether birthdays, holiday gatherings, or a fancy dinner with friends. This recipe elevates the regular chicken terrine recipe with cranberries, dried fruits, and nuts to add flavor and visual interest.
Festive chicken terrine is served as a main or side dish paired with a fresh salad, bread, or crackers. This recipe is versatile; you can customize it to suit the occasion. The festive presentation and flavorful taste make it a crowd-pleaser that will impress your guests.
Like the standard chicken terrine recipe, it uses ground chicken, herbs, and spices molded into a terrine shape. The recipe features pistachios and prosciutto slices, adding a crunchy element to the smooth and creamy chicken mixture. You can also add parsley or thyme to enhance the overall flavor profile of the dish.
Those who are on a strict protein diet love to prepare this recipe. Chicken is an excellent source of protein and has healthy fats, making this terrine a delicious, nutritious meal plan.
10. Bacon + Chicken Terrine
The flavors of bacon and chicken create a unique and savory flavor. Bacon gives the terrine a smoky and salty flavor, while the chicken provides a tender and juicy texture.
The terrine is baked in an oven and chilled for hours in this recipe. You can refrigerate it for hours or overnight to allow the flavors and texture to develop and set. Once it is ready to serve, the terrine is sliced into thin pieces and served with crackers, mustard, or pickles. Any to your liking that you seem best.
What sets this chicken terrine recipe from the other recipes on the list is its vegetable mixture. Vegetables are added to add texture and moisture to the dish, giving sweetness and crunchiness to the terrine too.
The chicken terrine is then flavored with parsley, thyme, and garlic. These herbs add a fresh and herbaceous flavor to the chicken terrine. Try this recipe for a nutritious and lower-fat chicken terrine.
12. Tom Walton's Pressed Chicken Terrine
Tom Walton's chicken terrine recipe is best for special occasions or a fancy dinner party. The recipe features ground chicken mixed with herbs, spices, and vegetables molded into a terrine shape and pressed evenly to remove any air pockets. You can also add parsley or chives to give the dish more color and flavor burst.
Are you into low-carb and keto lifestyles? This is the recipe for you. Ingredients in this recipe are prepared for a low carbohydrate diet to ensure you do not exceed the desired daily calorie. The preparation and seasoning of the chicken are for a low-carb diet. Instead of using breadcrumbs, use almond flour.
The recipe also suggests having heavy cream or butter. It gives the chicken terrine more richness and creaminess.
14. Ham + Chicken Terrine with Pistachios and Cranberries
Try this chicken terrine to give your taste buds a special delight. It is seriously delicious.
The ham and chicken combination gives a perfect blend along with the herbs and spices. The pistachios and cranberries are what sets this chicken terrine apart from the other recipes on the list. These added ingredients give sweetness and a delightful crunch to the chicken terrine.
When serving, slice the terrine into thin rounds and pair it with crackers or bread. Every bite of this delightful chicken terrine will make you want more.
This delectable chicken terrine recipe is a true game-changer. What makes this chicken terrine recipe truly unique is the ham hock and smoked chicken. The meat-cooking style combination gives the dish a distinctive smoky and savory taste. And with the inclusion of wild crab apple jelly.
Every bite of this chicken terrine explodes a complex savoury and sweet flavour profile. The blend of smoky meats, herbs, and spices and the sweetness of crab apple jelly, will truly impress your guests.
Final Takeaway
These 15 chicken terrine recipes are the best way to elevate your appetizer game, whether you like to impress your guests or simply want to enjoy a gourmet appetizer at home. Check out the traditional recipes to the modern twists of unique ingredients and flavor combinations to satisfy any palate. So which one will you try first?