Since the pandemic hit, people have been looking for more ways to spice up their lunch or dinner with something new to their taste buds.
As time goes by, they try to find something easy yet flavorful and filling. This article will help give you the top 18 chicken wrap recipes you can try for breakfast, lunch, or dinner.
Chicken wraps are an easy recipe since you can just cook up a piece of chicken filet however you like and wrap it around a tortilla or any wraps available.
On our list below, we'll give you 18 different recipes ranging from plain chicken wraps to bbq or sweet and spicy recipes that will satisfy your taste buds and keep you wanting more. We won't keep you waiting for long; let's move on to the first recipe on our list, shall we?
Have you ever tried pairing chicken with ranch? This recipe from Gimme Delicious will prove to you how much of a perfect choice it is. It only takes 10 minutes to finish the whole process, and you can use leftover chicken for this recipe.
All you need is chopped chicken breast, ranch dressing, mozzarella cheese, tortillas, and optional cilantro for the finishing touches. This recipe is the perfect snack or lunch meal.
2. Chicken Wrap, Quick And Easy Recipe By Recipes of the World
Next, we have this incredible chicken wrap from Recipes of the world. This recipe has a spicy feel that's good enough to make your bones tingle, and the flavors dance leisurely inside your mouth.
It will take 30 minutes to cook and prepare this meal, but it's worth it. You can even make slight changes to the measurements provided in the video to make it in large batches.
Over here, we have the Chicken Tortilla Wraps from RecipeLand. This recipe is quick and can serve four people in less than 30 minutes. It incorporates the sweet taste of Worcestershire sauce mixed with ranch dressing for an incomparable flavor.
You'll need ten different ingredients but trust me, the output is worth all the preparation. Do keep in mind that you'll need an oven and a skillet for this recipe.
4. Chicken Kathi Roll
Are you looking for a chicken wrap recipe with a hint of Indian cuisine? Try out this Chicken Kathi roll from Your Food Lab.
This recipe is unique from our list because they used chicken thigh meat instead of regular chicken breast. They also made the dough in the video, and all measurements are provided if you want to try it out yourself.
Tastes Better from Scratch makes it to our list with their buffalo chicken wrap recipe. Enjoy the spicy, tangy flavors of buffalo chicken snuggled up in a tortilla.
With a handful of ingredients, enjoy your time as you assemble this culinary masterpiece and enjoy the feast of flavors in your mouth. You can do this in less than 30 minutes, making it a perfect to-go meal without sacrificing nutrients.
6. Chicken Burritos
If you're looking for a chicken wrap recipe that will hold together for most of your meal time, RecipeTin Eats has covered you with their version of Chicken Burritos.
Instead of using the usual dry ingredients for the filling, their recipe involves using refried beans which helps keep all the ingredients together. They also add emphasis on how tightly rolled the wrap is. You may now enjoy your chicken wraps without worrying about the mess.
The following chicken wrap recipe is from allrecipe and features a sweet and spicy twist to your regular chicken wrap.
With a total process time of 35 minutes, this recipe features a creamy sauce made of cucumber, mayo, and honey. You can easily make 8 servings at once, so it's a great recipe to try out when you have friends over or for your whole family.
8. Chicken Avocado Wraps
Another recipe on our list which uses chicken thigh meat instead of chicken breast is this delectable Chicken Avocado Wraps from Chef Jack Ovens.
The recipe takes less than 30 minutes to complete, and you can even pick up a DIY ranch sauce recipe which can be helpful for several future recipes. If you're not a fan of ranch, you can enjoy it as it is since the flavor's overflowing enough.
Enjoy the flavors of Italian cuisine wrapped in a tortilla with this fantastic recipe from Easy Wrap Recipes. You only need seven ingredients for this recipe, and it only takes five minutes to be ready to eat.
They are great for any meal, and most ingredients are common. What's best is that you can store this yummy goodness in the refrigerator and reheat it whenever you like having Italian chicken wraps.
Cooking with Tammy enters our list with its version of chicken wrap with a caesar dressing. In less than 15 minutes, you'll be able to have a yummy dinner that you and your family can enjoy.
It's also a huge plus; it only needs less than 10 ingredients to prepare. All you need to do is follow the video, and you'll definitely get that savory wrap with no problems.
If you're opting for a healthier way to enjoy your favorite chicken wrap, then you should try this one. It is made with yummy veggies, juicy chicken, a flavorful sauce, and cheese.
This recipe is a big hit with children who don't enjoy eating healthy foods much, and it fits right into their lunch boxes. You can even store the wraps in individual foils and put them inside an airtight container for three days.
12. Arabic Style Chicken Shawarma
Since we've already had different variations, why not add an Arabic twist to your chicken wrap? Recipes Of The World comes through with their Arabic-style chicken shawarma wrap.
What everyone who's tried it before loves about this recipe is that you can taste the authentic Arabic flavors in every bite of the chicken wrap. Not to mention, you won't spend more than 30 minutes in the kitchen while preparing this.
Another recipe on our list that chili lovers might enjoy is the chili chicken wraps from BBC goodfood. This recipe is low in calories, high in spiciness, and quick and easy to make, which brings all the good stuff together.
The only thing that might tire you out in the process is preparing the 15 different ingredients you will use to make the chili chicken wraps, but other than that, you are good to go.
14. Flatbread Chicken Wrap
Take a quick look at this flatbread chicken wrap recipe from 매일맛나 delicious day. This recipe is unique in our list since they used flatbread instead of tortilla wraps or homemade dough.
It also comes with its own sauce called the Tzatziki Sauce, which can also be added to salads. You won't miss a beat if you follow the measurements and the process itself in the video.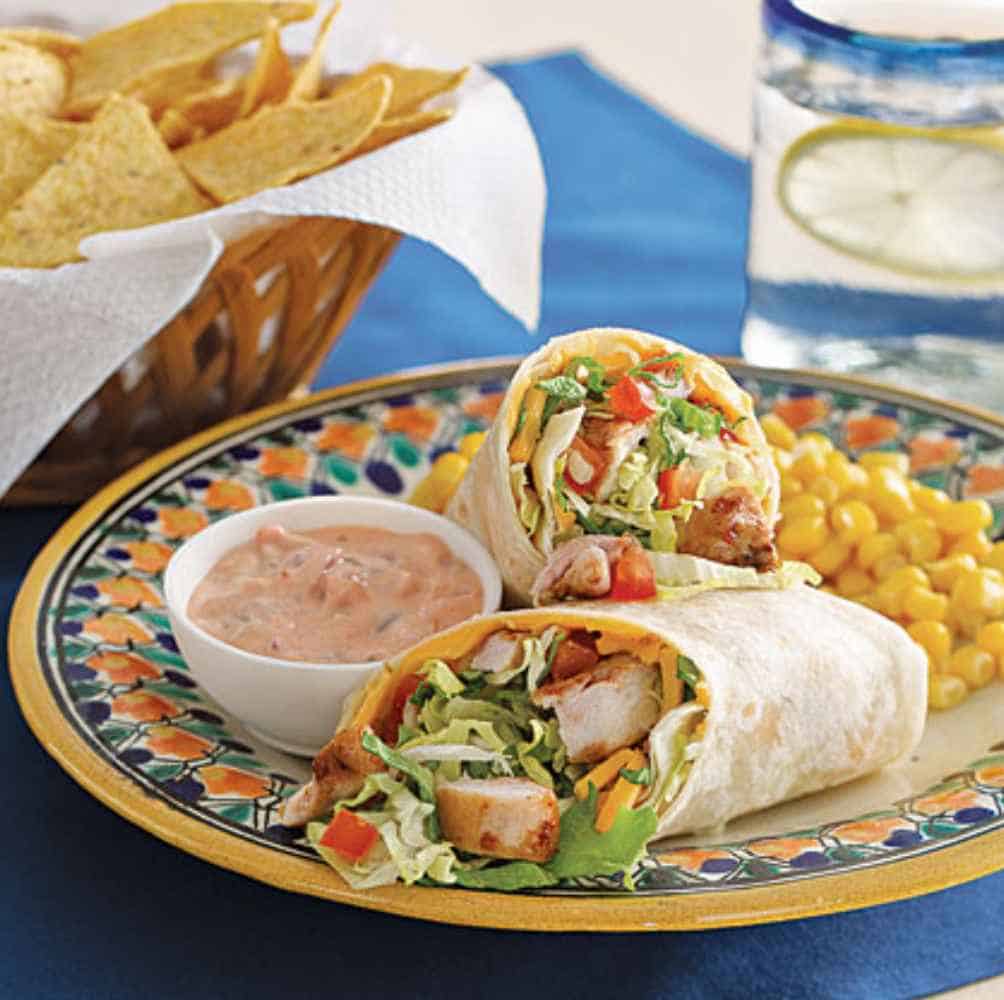 Chicken wrap with different flavorful sauces is already a meal that will make your mouth water and dance to the other flavors. But suppose something can add a twist to your regular chicken wraps.
In that case, it's Mexican salsa like the one used in the following recipe from myrecipes. The dip used in this meal is made from salsa and mayonnaise, which brings out the good stuff and complements the chicken wrap.
16. Chicken Cheese Wrap
The third recipe from Recipes Of the World on our list is the Chicken Cheese Wrap. If you're a big cheese fan, this one falls right in your lane.
In 10 minutes, you can have a cheesy chicken wrap lunch or dinner with no hassle. All you need is 10 ingredients and ample preparation time to prepare your things. The process is quite simple and does not require much cooking.
Before we finish our list, we can't leave this recipe from Panlasang Pinoy out. Their own version of the regular chicken wrap added a barbeque baste while cooking the chicken to give it that smoky flavor everyone loves.
The process takes 22 minutes to finish and less than five ingredients. You'll undoubtedly have a blast with this flavorful, quick, and easy recipe for any meal.
18. Homemade KFC Twister Wrap
The last recipe on our list is a homemade variation of the infamous KFC Twister Wrap, which includes chicken, cheese, and veggies.
Tasty Meals & Treats gives us a step-by-step tutorial on how these yummy goodies are made, and it's an easy process that most people can follow. Marinade may take some time, but it's worth it once you bite onto that wrap and taste the flavors that engulf the chicken.
Summary
Let's wrap up our list here (excuse the pun!), and we hope you enjoyed our list of the top 18 chicken wrap recipes. After reading all that, you are now more ready than ever to face breakfast, lunch, or dinner with fresh new ideas. Don't forget to share this article with your friends!