Poultry meat is the top meat eaten by people in Ireland, which shows just how important chicken is for them. With that said, we've collected a bunch of Irish chicken recipes that you can incorporate to your dinner menu.
From fried dishes to stews and sauces, you'd never run out of Irish chicken recipes to try out.
To kick start our list, we have this Irish chicken recipe from Recipes Food & Cooking. It is served in a pan filled with a variety of vegetables and topped with flavorful and juicy chicken cut into parts.
The rub used to season the chicken is such a festival of flavor that will stir up your senses and keep you wanting for more.
2. Roast Irish Chicken Supreme
The Roast Irish Chicken Supreme is a mouth-watering dish that can be a star of any dinner table. The savory flavors of the chicken breast, butter-basted into perfectly moist and tender meat, paired with the rich roast chicken cream sauce is indeed a chef's kiss.
Served with porcini gnocchi, buttered confit leek, wild mushrooms, and spinach. This roasted chicken dish will keep you wanting more.
St. Patrick's Day may be months or days away, but no one should stop you from having this Irish Stout Braised Chicken Thighs.
This savory chicken dish is made up of tender juicy chicken parts soaked in yummy gravy and garnished with vegetables for a totally appetizing look. Make sure to use Guinness Stout to get that real Irish vibe for dinner.
4. Chef Kevin's Irish Chicken with Potatoes and Cabbage
One way to celebrate St. Patrick's Day with a bang is to serve this Irish Chicken with Potatoes and Cabbage. This recipe from chef Kevin offers a healthy way to serve your Irish chicken with the help of potatoes and cabbage.
Once finished, you'll have a nutritious bed of potatoes and cabbage topped with tender chicken thighs fresh from the oven.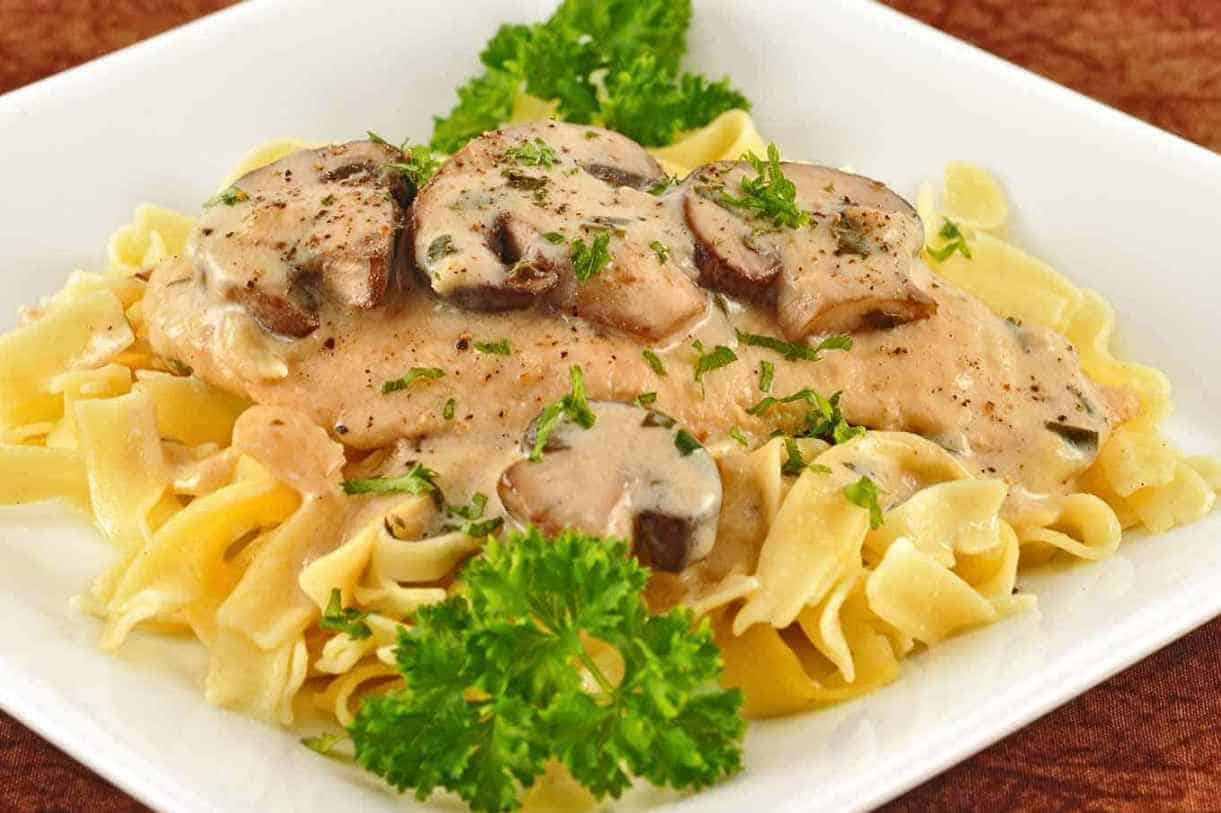 Make any dinner night special with the Chicken Flambé in Irish Whiskey and Cream. Delightful creamy sauce filled with onions, mushrooms, Worcestershire, and cayenne, coats the juicy boneless chicken breasts.
Let the show begin with a little flare as the Irish whiskey joins the party. Finish with heavy cream, chopped parsley, and lemon juice. Serve over noodles or rice then enjoy!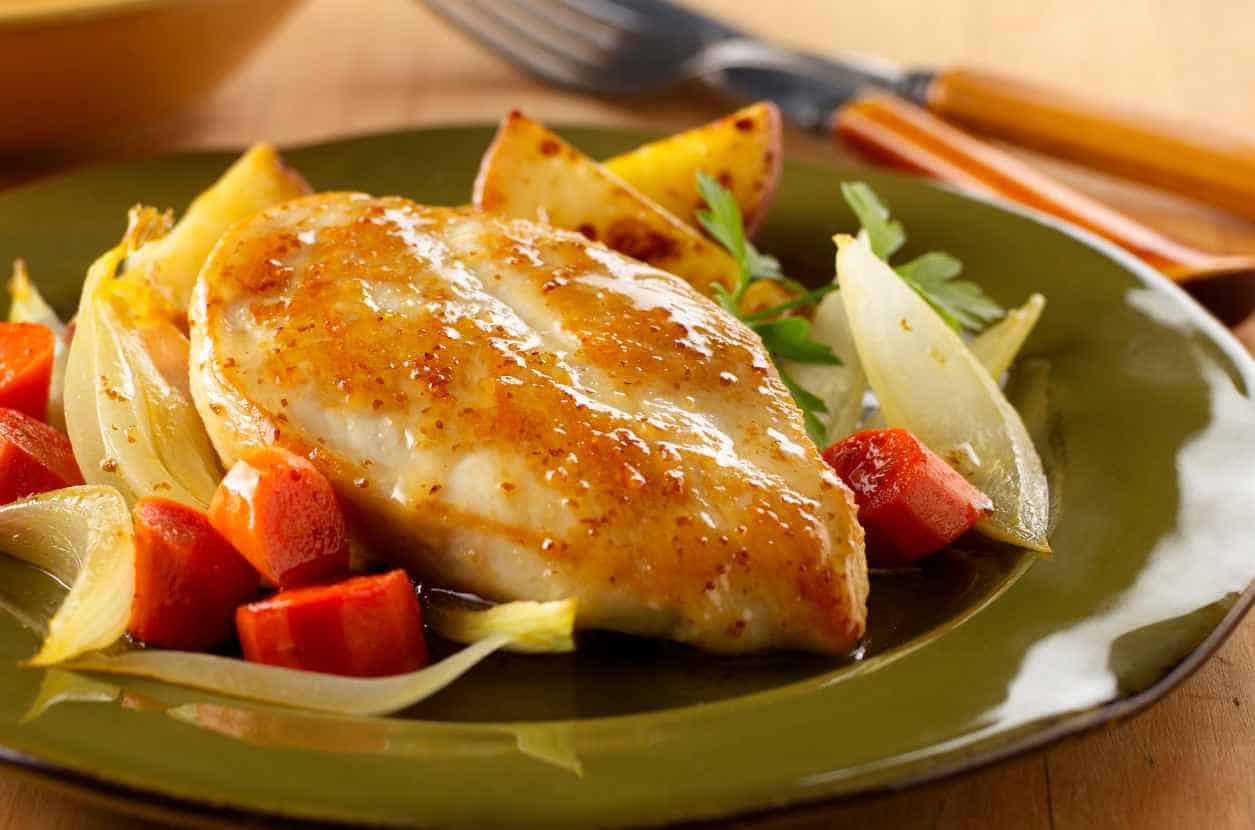 Next up on our list is the Irish Honey Mustard Chicken & Vegetables. From the name alone, you can tell that this dish ought to be a huge blast of flavors. It has all the right mix of ingredients with honey, mustard, onion, red potatoes, carrots, and of course, the chicken.
7. Easy Chicken Casserole Irish Style
Here's another easy dish that's perfect for cold, winter nights. Nothing beats a hot soup filled with carrots, celery, potatoes, onion, and perfectly seasoned chicken. Take a sip and relax with an Easy Chicken Casserole Irish Style recipe that you can enjoy even on rainy days. Best paired with crusty bread or any side dish of choice.
This Irish Chicken Colcannon Cottage Pie for Two makes up for a hearty meal that you can enjoy with a plus one. It's a gluten-free dish made with shredded chicken, onion, celery, carrots, and other more vegetables. Paired with a savory garlic herb gravy, this dish will excite your senses and keep you wanting for more.
9. Cooking up Irish Farmhouse Chicken Casserole
A nutritious and comforting recipe of the Irish Farmhouse Chicken Casserole shared by chef Clodagh McKenna showcased the meaty goodness of its chicken bone broth. The bones play a big part in bringing out the juicy and smoky flavor of the broth.
This casserole dish contains shallots/onions, carrots, a lovely mix of herbs, and chicken. A good tip in making stews is to sear your chicken well until lightly browned to seal in the juices completely. After slow cooking for an hour or so, enjoy the warm soup of bursting flavors that is definitely worth the wait.
We often hear of dumplings from different cultural cuisines. But with the Irish Chicken and Dumplings, it is made easy by mixing milk and baking mix to form soft doughs that will be dropped and simmered on the boiling stew.
The creamy fragrance from the combination of boneless chicken breast, celery, onion, green peas, potatoes, cream of chicken soup, and dumplings will surely bring comfort any time of the day.
12. Quiet Man Public House: Irish Chicken Curry
Curry is one of the dishes that requires a good amount of spice. You might want to find a good type of curry that will tingle your taste buds with its authentic taste. The special sauce will surely fill your chicken with different layers of savory flavor. Level up tonight's meal with the Irish Chicken Curry.
For this recipe, we have a cozy meal in the form of the Irish Chicken Stew. It's made from a satisfying and flavorful mix of tender chicken meat and assorted vegetables such as carrots, potatoes, and peas. Don't forget to add a dash of thyme and rosemary to fully enhance the flavor of the dish.
Ready your skillet for this hearty chicken dish made special by stout beer. The fermented flavor of the stout brings a new kick to your chicken meat mixed with veggies. The dark, deep taste of the iconic Guinness stout beer is a must try to complete the authentic Irish experience.
14. Irish Chicken Soup Recipe – Creamy Chicken Soup
Nothing beats any homemade soup on a cold, rainy day. This Irish Creamy Chicken Soup boosts with flavor in every sip. This dish is also called "Skink", which means "broth" in old Irish terms and is a great choice to fill the table on St. Patrick's Day.
Just toss in some celery, scallions, leek, and carrots, sauteed in butter, along with the chicken. Don't forget the heavy cream and flavorful chicken broth and it's already good to go.
As Ireland is known for its outstandingly smooth whiskey, pairing it with boneless chicken is a must-try. The thick, cream sauce made with Irish whiskey, chicken broth, heavy cream, and chives, perfectly matches the pan-fried juicy chicken.
Combine together, bake for 15 to 20 minutes until sauce is bubbling and this quick and easy dish is good to go! Serving it with rice or egg noodles is a great option for a more filling meal.
Bacon and chicken combined together is an unbeatable pair. Imagine the aroma in your kitchen with these two. The delightful bacon grease in the pan coats the juicy chicken meat, rubbed with herbs and spices. In the same pan, the vegetables are wonderfully seasoned.
An additional burst of sweet flavor from apple juice pops in to complete this delectable meal while it goes in the oven. This Baked Irish Chicken is a meal that even the young ones may enjoy.
The Irish Chicken Farmhouse  Soup  is perfect for days when we feel under the weather. A sip of well-seasoned broth filled with fresh veggies and shredded chicken is like a warm hug on busy or chilly days.
Broths available in stores are life savers and help in making this dish less time and energy-consuming. Homemade broth is a good option as well. Putting together a unique broth recipe is like doing your own magic, creating a fresh taste that makes this dish more special.
18. How to make Rustic Irish Chicken and Cabbage Stew
A fulfilling meal that will surely make you grab another bowl. Chicken, mixed with veggies, bacon, mushrooms, and flour mixture for a  creamy, thick soup.
With added flavors of fresh herbs, chicken broth, and stout, preferably Guinness. Enjoy a warm bowl of this Rustic Irish Chicken and Cabbage Stew today. Best paired with crusty bread or a bowl of steamed rice.
Let's spice things up a bit with Irish Chicken Nachos. Perfect as a late-afternoon snack or at any time of the day. Switched the classic, tortilla chips to waffle fries for an Irish twist.
Topped with juicy chicken, sliced jalapeños, crisp bacon bits, green onions, and melted cheddar cheese, creating the perfect bite. Best served warm with salsa and sour cream on top for added flavor.
The Irish Country Chicken Breast serves you a taste of rustic Ireland. With savory sweet and sour flavors of white wine and lemon juice, topped with crispy golden crumbs and delightful cheesy, creamy goodness. Best served with beans, potatoes or green peas on the side.
Summary
With that, we are ending the list of the top 20 Irish chicken recipes to prepare on regular nights and on celebrations such as St. Patrick's Day. After going through all those recipes, you'll see that most of them are easy to follow but still flavorful and juicy. This should help you come up with an inspiration for dinner tonight.