Chicken is one of the easiest and faster meats to prepare, making it perfect for busy weeknights. You can combine it with vegetables, grains, and noodles to make a nutritious and filling meal. If you want more lunch or dinner meal ideas, check out this article's 22 shredded chicken recipes.
What is Shredded Chicken?
Every home cook would benefit from learning how to make shredded chicken. It is chicken breast, or thigh pulled apart with two forks. This versatile ingredient can be used for appetizers, sandwiches, soups, salads, and main dishes.
While it's easier to buy a rotisserie chicken and shred it, it's best to know how to do it in your kitchen. Buying canned shredded chicken is discouraged since it doesn't taste the same as freshly prepared ones.
What's the best chicken part to use for shredded chicken?
To make shredded chicken thighs, you can use boneless chicken thighs or boneless chicken breast. Some might prefer thighs since they are moister, but either is okay. Make sure no bones or skin are left for more effortless shredding.
How to cook chicken for shredding?
You may poach, boil or cook the chicken in a crock pot or slow cooker. However, preparing it on the stovetop is the best method. It is moist, tastier, and shreds easily. Here are the steps in preparing chicken for shredding later.
Sear the chicken: Heat some olive oil in a pan. Carefully place the chicken and sprinkle salt and pepper. Sear it for five minutes, then flip it over. Season it again generously.
Poach the chicken: Add ¾ cup of chicken broth to the pan and cover it. Poach the chicken for seven to ten minutes. If you're using chicken thighs, cook it a bit longer. You may use a thermometer to check for doneness. The ideal temperature is 165 degrees Fahrenheit.
What are the best ways to shred the chicken?
Using Two Forks: Place the cooked chicken on a clean cutting board. With two forks, separate the meat and shred it until your desired size.
Using a Stand Mixer: Use a paddle attachment and lock the tilt head. Place the chicken in the mixing bowl and set it to low. Turn it on, and in 15 seconds, you'll have your shredded chicken.
You can now use your shredded chicken to prepare the following recipes.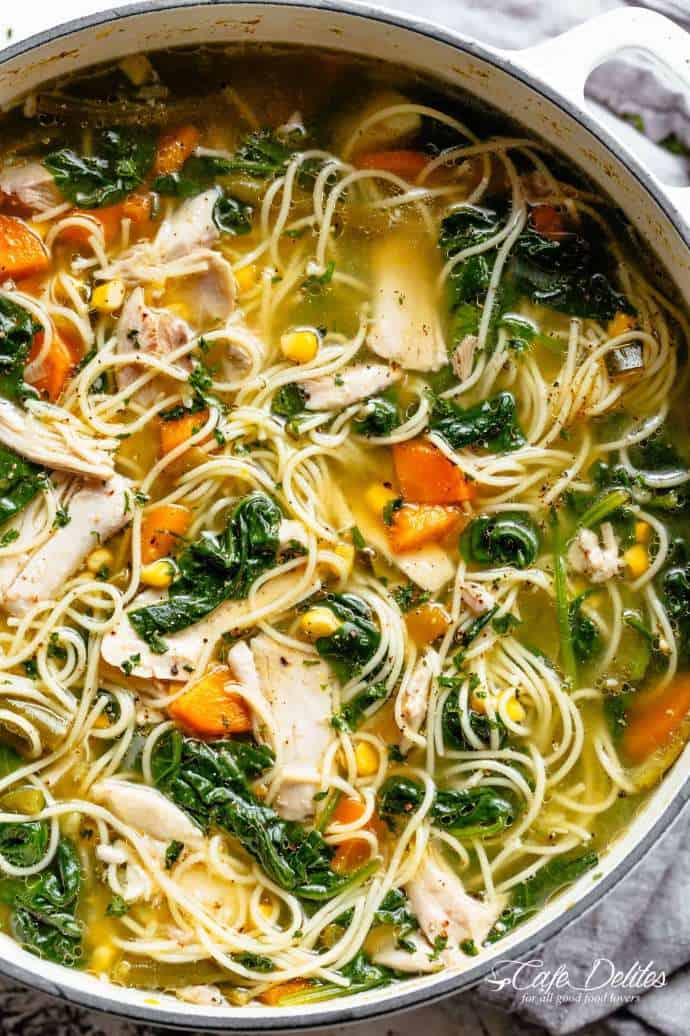 Nothing beats chicken soup for warming you up on a cold night. It's also an excellent remedy for when you feel sniffles are coming. The mixture of chicken and vegetables provides the protein and vitamins to help you recover from colds.
Adding noodles to this comforting dish makes it more filling. Moreover, cooking a one-pot dish allows for minor clean-up, so you can already dig in and rest.
2. Thai Crispy Shredded Chicken Stir-Fry
You don't have to travel to Asia to enjoy authentic Thai food. This recipe lets you prepare a sweet and savory dish that you might get from Bangkok streets.
You'll use ingredients that you can easily buy at the supermarket. There's no need to order from specialty stores. Top this shredded chicken recipe in a bowl of steamed rice or stir-fried noodles.
Cranberries may be famous as a sauce for roasted turkey, but it is also great for healthy chicken salad. Its tartness and sweetness compliment the richness of the chicken and salad dressing.
This dish gives off a holiday vibe with the addition of berries and pecans. However, you can enjoy it anytime as a complete meal or a side to grilled meat.
4. Mexican Shredded Chicken
Beef is the most common ingredient for tacos, but chicken can be a healthier alternative. This Mexican Shredded Chicken is packed with all the Latin flavors that make it delicious.
You can use this recipe for tacos, burritos, enchiladas, and other Mexican wraps. It's perfect for busy days since you can prepare it in about 30 minutes. You can skip ordering food and enjoy an economical and nutritious meal at home.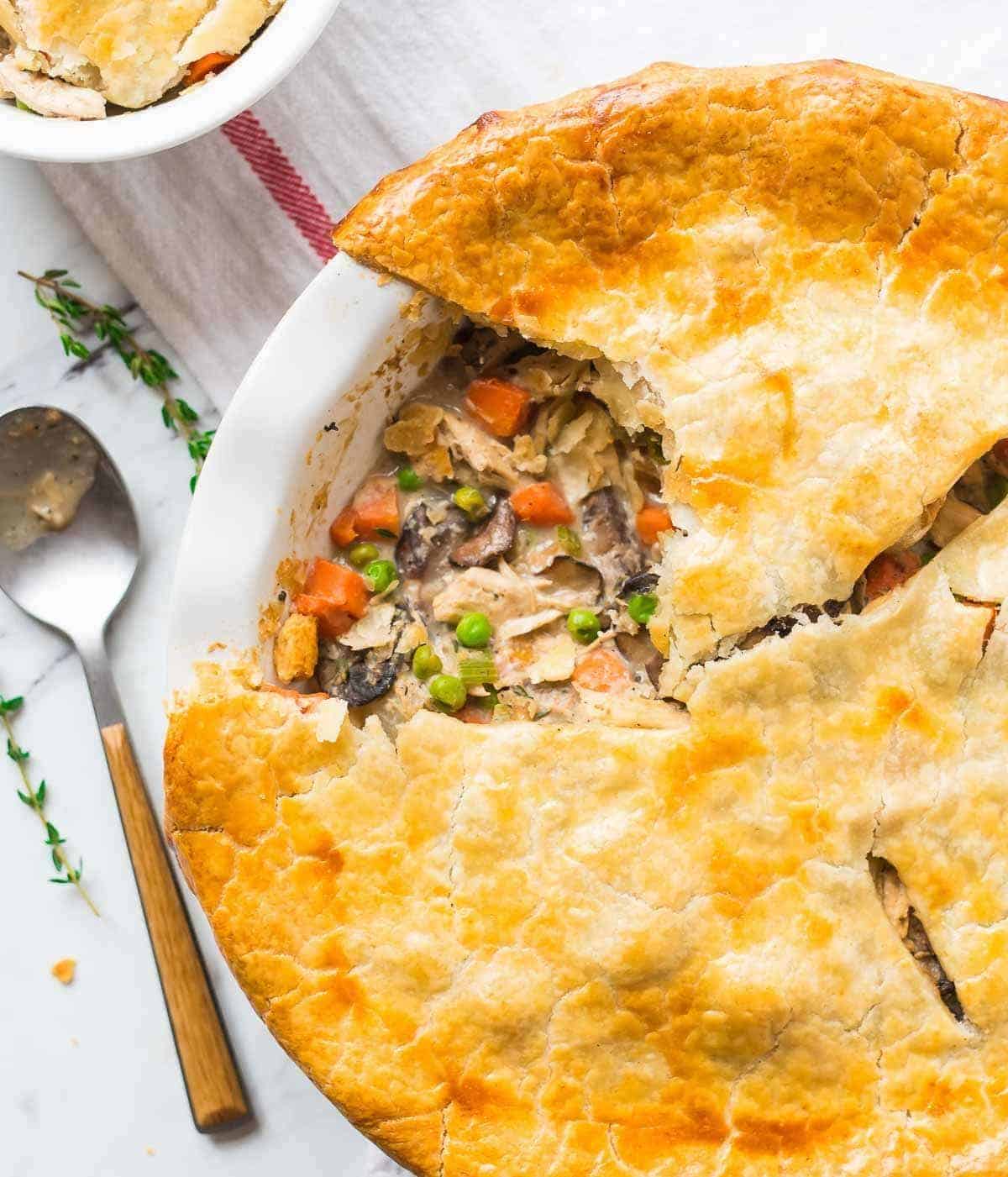 This dish brings back memories of weekends at grandma's house. It's a classic comfort food loved by everyone, even picky eaters or discerning adults. Preparing the pie crust may seem daunting at first.
However, you can get it right with some practice and determination. This dish's garden herbs and spring vegetables make it a complete meal for the whole family. It's an heirloom recipe you can pass on to the next generation.
6. Chinese Style Shredded Sesame Chicken
Some Chinese take-out food is loaded with sodium and MSG. If you want to try a healthier Oriental meal without sacrificing flavor, then try this recipe.
All ingredients are readily available in grocery stores. You don't even have to visit Asian stores. Adding cilantro, garlic, and sesame oil give it an authentic flavor that you can find in restaurants.
Make game nights or movie marathons more exciting by serving this easy nachos recipe. It's cheesy goodness you can prepare using a sheet pan. Just dump all the ingredients, bake, and voila, you have an appetizer everyone will love.
Remember to use restaurant-grade tortilla chips to hold all the elements better. It's also best to top the shredded chicken with various cheeses. Monterey jack and cheddar are great options.
8. Sichuan Bang Bang Chicken
Bang Bang sauce has been making the rounds on social media recently. Perhaps, it's because the combination of sweet, spicy, and creamy flavors makes it perfect for any meat.
This recipe gets inspiration from Sichuan cooking and uses homemade chili oil. It's like visiting the majestic Sichuan province with its ideal blend of authentic flavors. It's a great add-on to rice or noodles.
Pesto is one of the well-loved sauces in the world. It's a glorious mix of fresh basil, pine nuts, parmesan cheese, and olive oil. Imagine what this sauce can do to shredded chicken.
It can turn something so simple into a gourmet Italian sandwich. Using greek yogurt as a dressing makes this dish healthier. It's a quick meal to pack for lunch or to satisfy late-night hunger pangs.
10. Shredded Chicken Soup
Chicken soup is an old remedy for colds and flu. The amino acid content in chicken alleviates symptoms and eases the feeling of malaise. If you want to comfort a sick loved one, prepare this soup for faster healing.
This recipe's garlic, onions, and carrots add more nutrients that the body needs to recover. The warm soup can also soothe a scratchy throat or an aching belly.
A trip to New Orleans won't be complete without tasting the iconic Jambalaya. However, you don't have to travel to this Louisiana city to experience this delicious stew.
This recipe will show you how you can make it at home using shredded chicken and other ingredients. You can choose any rice for this one-pot dish. Whatever you decide, you'll still get a filling meal that your family will love.
12. Shredded Chicken Salad
Costco is famous for its economic grocery items. It's also known for its delicious, budget-friendly salad. Do you know that you can enjoy this meal without the harmful additives or added sodium found in a store-bought salad?
You can use essential pantry ingredients and your trusty shredded chicken. It's also great for people on a paleo or keto diet since it's low-carb and nutrient-packed.
Casseroles are always a hit at potlucks and family dinners. You can easily impress discerning diners with this one-pot wonder. This recipe is a heavenly fusion of Mexican and Italian culinary influences.
It combines shredded chicken, beans, corn, and tomatoes in one complete dish. Adding cheese and spices makes it a fiesta in your mouth. The recipe calls for fusilli noodles, but you can also use macaroni, bowtie, or rotini pasta.
14. Shredded Chicken Enchiladas
Enchiladas are a crowd favorite in Mexican restaurants. However, you can recreate it at home using this easy-to-follow recipe. This dish uses chicken for a more healthy and nutrient-packed meal.
A great tip to make it less soggy is to bake the corn tortillas first for a few minutes before adding the sauce. This hack balances your dish with those you can order from popular dining joints.
Summer calls for a picnic in the park, lake, or beach. One of the best meals to pack for these trips is sliders. They're easy and convenient, making them perfect for outdoor adventures.
These sliders pack in many flavors because of the barbecue sauce, gooey cheese, onions, and cilantro. You can cook it in 30 minutes or less, so you'll be out of the door in no time.
16. Shredded Chicken with Garlic Sauce
Garlic Sauce makes food rich and flavorful. This recipe is no exception. It's available in most Chinese restaurants, but you can always make it home. You can buy the ingredients at supermarkets or Asian stores.
Just make sure that you choose low-sodium soy sauce for a healthier version. You can quickly cook this dish to have a restaurant meal any day of the week.
This Southern dish traces its roots to Georgia and Virginia. According to history, Americans first made it after the civil war. However, some historians claim that it dates back to 1898. Whoever made it first or when doesn't matter.
People are just grateful for this delectable and hearty dish. It's a tomato-based stew loaded with shredded chicken, smoked meats, and vegetables. The addition of smoked meats gives it a richer flavor.
18. Shredded Steamed Chicken in Sesame Sauce
This dish is an excellent example that simple food can still pack many flavors. You can buy all your ingredients, such as Sesame Sauce and chicken powder, from Asian stores.
Meanwhile, you can purchase chicken breast from your local market. The addition of cucumber cleanses the palate and gives it a perfect crunch. You can enjoy it with some noodles or a steaming bowl of rice.
People who are seeking to lose weight aim to eat more low-carb meals. This recipe fits the requirements perfectly. It's low in carbohydrates but high in fiber, vitamins, and minerals.
The Buffalo sauce gives it many flavors you won't notice; it's a healthier alternative. You'll still get your meaty and cheesy fix without worrying about packing in some extra pounds. The use of zucchini makes it fiber and nutrient-dense as well.
20. Pulled Chicken Sandwich
Sandwiches are great for packed lunches and midnight snacks. They're easy to prepare using pantry ingredients and basic cooking skills. This recipe uses shredded or pulled chicken that you can prepare beforehand.
It's an excellent filling for baguettes, brioche bread, slider buns, or even jacket potatoes. This recipe will allow you to make workday meals that are healthy and economical without sacrificing flavor.
21. Chinese Shredded Chicken Salad
Chinese Cooking entails a mixture of sweet, savory, and spicy flavors. You can tap into your imagination to create the perfect blend and do away with exact measurements.
This recipe allows you to experiment in the kitchen using a variety of Oriental sauces, herbs, and spices. It uses chicken thighs, but you can always use breast if you want to eat white meat. You can pair this salad dish with grilled meat or steamed fish.
21 Best Shredded Chicken Recipes
Chicken can be a healthier alternative to beef and pork. It's rich in protein and is easier to cook than other meats. This article's 21 best-shredded chicken recipes are easy to prepare and budget-friendly. They're delicious and filling, making them perfect mainstays in family dinners, parties, and office lunches.
Directions
Select your favorite recipe.
Organize all the required ingredients.
Prep a Shredded Chicken Recipe in 30 minutes or less!